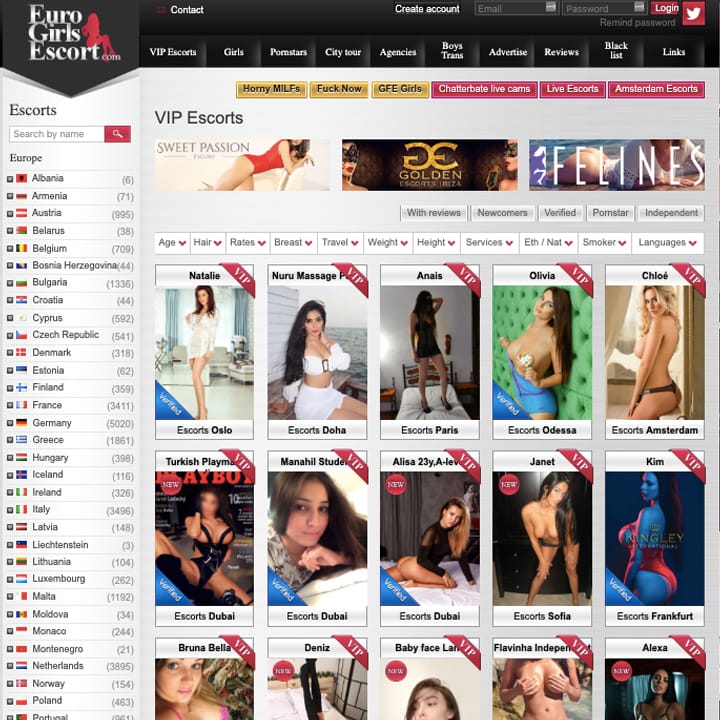 Jan 31, 2020
Euro Girls Escort: Hot Dates, No Strings Attached
Reading time: 2.5 minutes
Need a Date?
Are you looking for a sexy date with no strings attached? Whether you're looking for some arm candy to accompany you to an event, someone who will listen to you without expectation or judgment, or a real "girlfriend experience," why not consider hiring an escort? These ladies are real pros when it comes to nearly every aspect of dating. They keep their physics tight, their conversational skills sharp, their attire fashionable, and are ready and willing to focus on your needs for a change. If you're in need of a high-class date fast, hiring an escort can be your most convenient option by far.
Where to Begin?
So where does one go to hire an escort? Well, if you're in Europe, look no further than Euro Girls Escort. Whether you're traveling and looking to meet an attractive companion or you live here and are in need of a hot date tonight, Euro Girls Escort has you covered. This amazing site has a great variety of dates to choose from throughout Europe.
Euro Girls Escort has an abundance of sorting options to help you find the perfect date. You start by browsing by country, which is likely the most practical place to start for obvious reasons unless you're looking for a date as part of some epic travels. Speaking of travel, some escorts are willing to head to where you are. You can search for ladies willing to travel within their country, across Europe, or even worldwide!
Additionally, you can also narrow your search using a variety of physical traits including hair color and length, breast size and type (natural or enhanced), weight, and height. You can look at escorts who've been reviewed, newcomers, varified, independent, or even find a pornstar escort. If you want more info on what to expect if you order a pornstar escort, you can see our previous guest blog. You can also sort by age, language, nationality, hourly rates, or what kinds of services/sex they might be open to.
Can you Expect Sex from Your Escort?
Technically, to be legal in most areas, when you pay for an escort, you are paying for their time. Sex cannot legally be part of the transaction, except in a few areas where prostitution is legal. However, let's not be nieve here. As a rule, escorts understand that sex is generally part of the expectation when she is hired. While agreeing to provide you with her company for a certain number of hours is NOT the same as consenting to sex, escorts are typically more open to it than a typical date.
With Euro Girls Escort Specifically, it is clear from the list of "services" that hookups are absolutely on the table here. Not just any sex. You can feel comfortable being upfront with your escort about your specific fantasies and desires. You can even sort by certain sex acts to make sure your date is into what you're looking for. You can find someone open to 69, various types of threesomes, roleplay, massage, kissing, dominance or submission, and much, much more.
Is it Easy?
Euro Girls Escort makes finding the perfect date super simple. The website is easy to use. You just follow the link provided, click enter, and you can start browsing their extensive database.
Once you find escort girls who pique your interest, you can click on their profile for additional details about each potential date. You'll find a brief description written by the escort, not unlike what you might find on a dating site. You'll also see a list of services she's open to, her hourly rate, services that will cost you extra, who she's open to meeting, her measurements, additional photos, and how to contact her if you're interested.
Once you've selected a date, you just click the contact button! Euro Girls Escort is a 100% free directory for customers, so you don't have to worry about them tacking on added fees. With the help of this great resource, you can set up a hot date with the perfect companion tonight and know exactly what to expect.