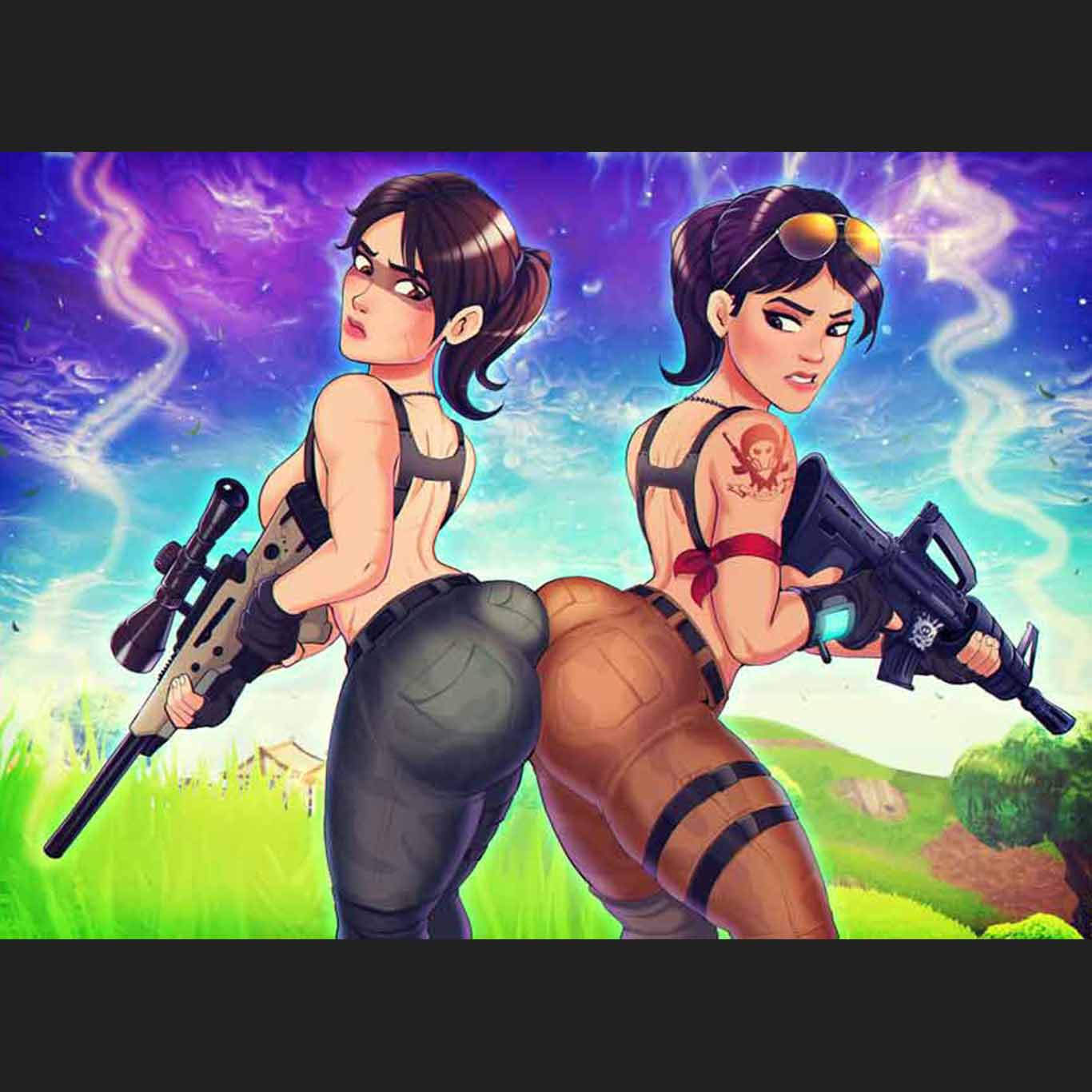 Jun 18, 2018
Fortnite porn videos more popular then ever!
Reading time: 2 minutes
With more than 40 million players around the world, Fortnite with no doubt whatsoever is a very popular video game, as long as the naughty activity related to the game. On PornHub Insights you can see that these last months the porn researches related to the video game have broken sort of records and producers have been put to work to meet the clear request of users. Everything is subject to change, starting with what people are searching for in porn.
There are a lot of great stats and tables about what people are searching to answer their Fortnite related pornographic need. The peak of searches related to Fortnite porn coincided with the fall of the servers of the game last April, thanks to the horny gamers. For the curious, some of the most common keywords used in searches before and after the name of the game were "hentai", "sex", "ass" and "porn" in addition to one of the most commonly used words in video games porn searches "SFM".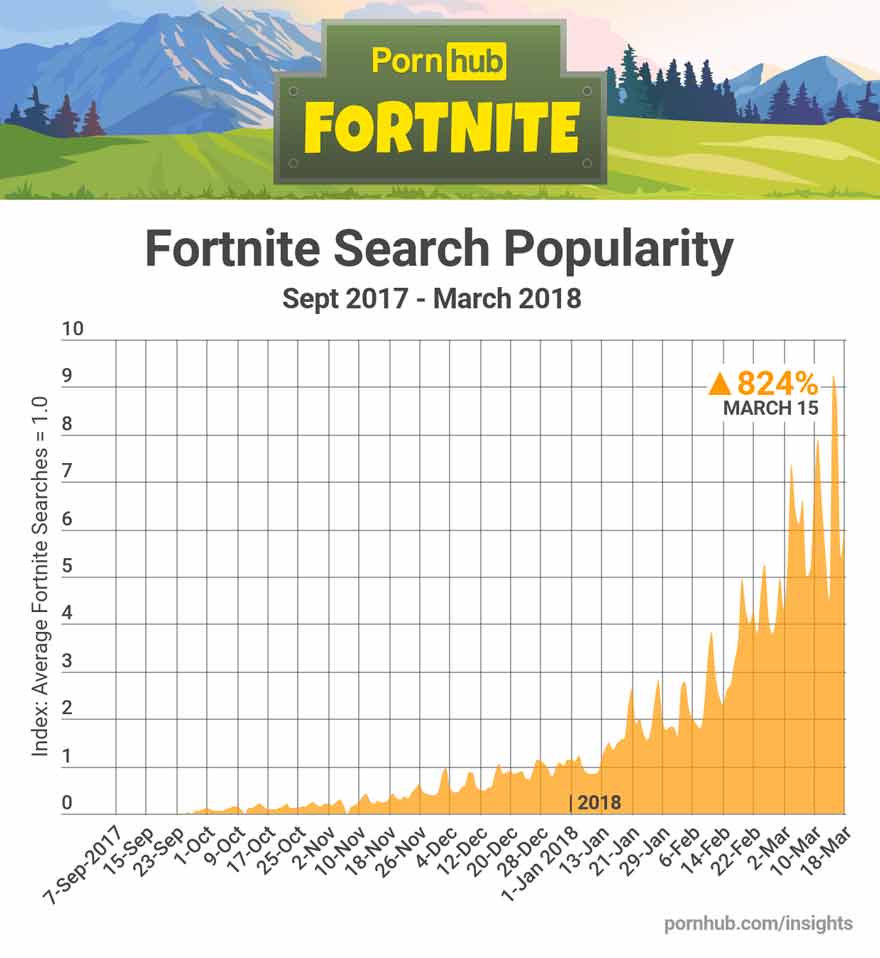 "Fortnite Porn" stats by PornHub
It is undeniable what users like; year after year, Cosplay in porn has become increasingly popular, why not put together 2 things that you love? In addition, the porn industry can claim the merit of being a pioneer in using the most advanced technologies to realize the hottest fantasies of consumers; normally porn drives people towards tech, in recent times this statement has been noted by including VR technology in the service catalogue, which allows you to feel porn in the first person. It's crazy! At this moment there are actually some sites that unite all this, Whaaat? Yes, porn + your favorite video games + virtual reality. Welcome to the new age! Pages like VR Cosplay X have decided to specialize in unifying everything virtual sex products for an immersive VR content, summing up, a paradise for mischievous gamers. The best thing about VR technology applied to porn is that they do not offer you only porn, but intimacy and first-person virtual sex experience, it is the visual aspect that makes you feel almost the same sensations as in reality.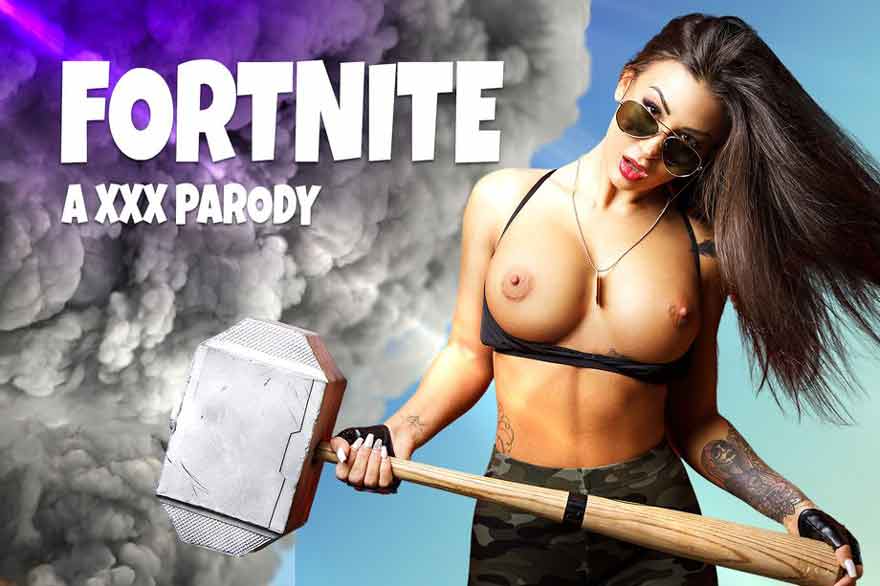 VR CosplayX - Fortnite Porn spinoff
Cosplay porn and parodies are up to date, if there is an issue, there is porn about it, and it can be so bold as to include from Disney princesses to your favourite superhero movie kick-ass girl and even your favourite anime girls; it is really cool being able of enjoying your hottest fantasies with the characters that turn on you the most.
Anyway, if you are one of the 40+ million gamers and you are looking for some fun, the meteors have fallen in Fornite and the juicy Spanish Susi Gala too, her Fortnite Cosplay parody video is available in VR Cosplay X; you have several options where you can download the video Vive/Oculus, PlayStation VR, Samsung Gear VR and Daydream View. She landed in Tilted Towers ready to kill, loot and get laid. Enjoy yourself and feel Susi's ass bouncing on you with the VR technology, only a fragment of what you might experience using VR technology.
Cover art by Shadbase