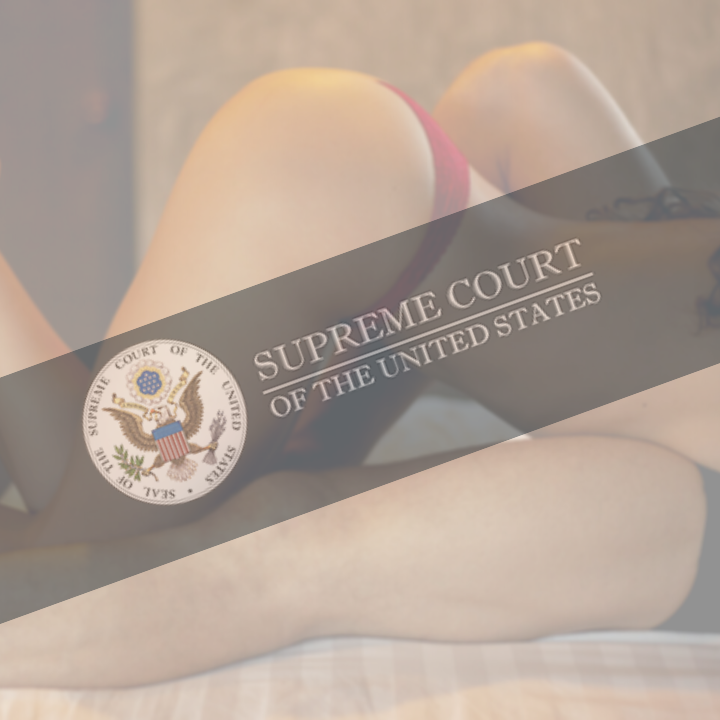 Dec 09, 2020
How the New SCOTUS Justice Could Ruin Porn
Reading time: 4 minutes
Amy Coney Barret was confirmed to the United States Supreme Court on October 26th and is already hearing cases. She was hand-picked to succeed liberal justice Ruth Bader Ginsburg by President Trump and is very nearly the opposite of the notorious RBG, politically speaking. The vote to confirm her was largely along party lines and creates a 6-3 conservative majority on the Supreme Court. This comes at a time when many crucial hot-button partisan issues are expected to make their way to the supreme court including gay rights, abortion legislation, immigration policy, and health care. These are very important issues and worthy of the focus they are getting. However, what many outside the industry don't realize, is that Amy Coney Barret is a nightmare for adult entertainment.
Who Is Amy Coney Barret?
She was born in New Orleans on January 28, 1972 to a devoutly Catholic family. She eldest of 7 children. Her father was a lawyer for Shell Oil company and her mother taught high school French. She attended Rhodes College in Tenessee before going on to law school at The University of Notre Dame. She was a clerk for famously conservative Justice Antonin Scalia of the U.S. Supreme Court from 1998 to 1999. After that, she was a practicing attorney at a small firm for 3 years, where she provided briefing assistance for the firm's representation of George W. Bush the famous Gore vs. Bush Supreme Court Case. She then quit her private practice to teach law until 2017, when Donald Trump appointed her to the Seventh Circuit of the United States Court of Appeals.
She considers herself a constitutional originalist, like Scalia before her. She does not consider the constitution a living document and thinks it should always be interpreted as the founding fathers would have hundreds of years ago. While that can make issues like privacy on the internet a bit tricky to parse, the reason many fear her has more to do with her religion than her judicial philosophy, per se. More specifically, there is concern that she will not be able to separate her religion from her religious philosophy.
Her Religion
Amy Coney Barret is reportedly a member of a strict, conservative Christian order called The People of Praise. It is typical for members of this community to consult their religious leaders on virtually all matters both mundane and life-altering. Female religious leaders are called "hand-maidens" and instruct their flock to submit to the will of their husbands and fathers. The order combines influences from Catholicism, Evangelical Christianity, & intellectualism. The group's strict views on traditional gender roles and human sexuality are central to their faith. The group only has around 1650 adult members in total.
Those In The Industry are Already Worried
In a must-read article in the Daily Beast, adult film actress Siri Dahl said, "If she's confirmed, it could be catastrophic for the adult industry if and when any First Amendment-related cases reach the Supreme Court," argues. "Instead of supporting equal free speech for all Americans, she seems to support privileged free speech for religious Americans. There's no way that will be good for the porn industry."
Siri also had broader concerns about sexual rights as well, saying, "I'm worried most about reproductive rights. Our rights to important health care like birth control and abortion are in imminent danger. It's especially scary to me as a sex worker who also happens to have a uterus," adding, "I'd like the government to stay away from my sex organs and my personal health decisions!"
Former Penthouse Pet Mary Moody warns, "The adult industry is founded on bodily autonomy and freedom of expression, freedoms that religious extremist Barrett will happily erode or remove. She will even be considering First Amendment cases that could outlaw porn. While she claims to be for freedom and liberty, it's clear she will happily regulate the bedroom on- and off-screen."
She goes on to explain why Barret's track record, while short, is particularly worrisome, saying, "We might hope that Barrett could separate her extremist religious beliefs from her judgments but while teaching law she argued justices should be allowed to judge based on these beliefs. Her history speaks for itself, and when given the option to rule on cases that will impact sex workers, it is clear she will lean on her radical conservative religious beliefs to aid her."
Angie Rowntree, founder of Sssh.com, the web's first porn-for-women feminist site, also weighed in. "I suspect that from what we know of her religious beliefs, that any anti-porn cases that come before the court will stand a good chance of winning for the religious right agenda. This goes hand-in-hand with reproductive, women's, and civil rights protections under the 14th Amendment," she says. "Considering that Supreme Court seats are 'for life' her religious/conservative agenda will push the U.S. back to 1960 for a generation in some societal and legal aspects. The TV show Mad Men is enjoyable to watch on television, but not to watch play out in the highest court in the land which affects the lives and rights of millions every day."
Why Porn is Particularly Threatened
In 1957 (Roth v. United States), the Supreme Court rulings have held that obscenity is not protected under the 1st Amendment. Obscenity is vaguely defined as being, "be utterly without redeeming social value" and "of prurient interest." Without a measurable standard, what is and is not legally considered "obscene" has been decided on a case by case basis, and is entirely subjective. Justice Potter Stewart famously explained, "I'll know it when I see it."
In the adult film industry, we have every reason to fear that nearly everything will look obscene when seen through the eyes of a religious extremist on the Supreme Court.