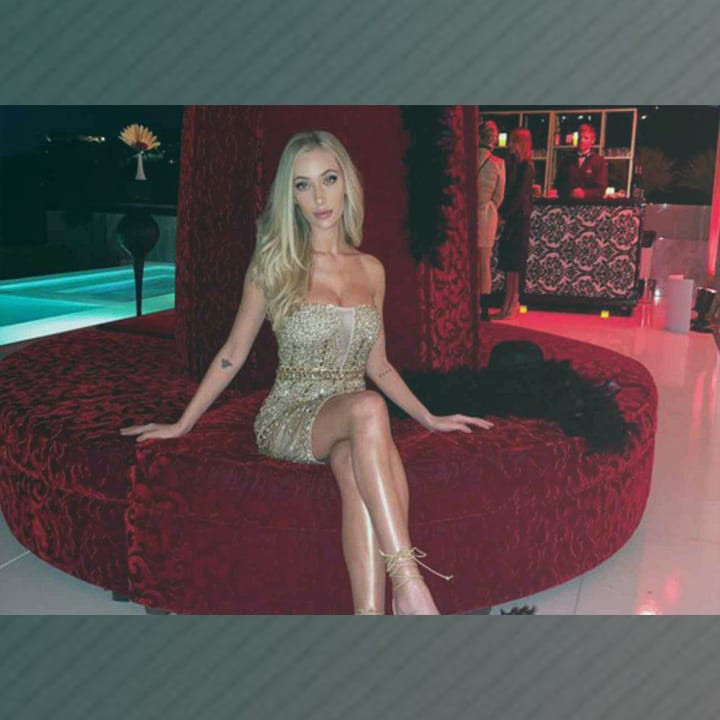 Apr 04, 2020
Kaylen Ward: Naked Philanthropist or Internet Pimp?
Reading time: 4 minutes
Do you remember waaaaaay back in January when the news cycle was dominated by a different calamity? The Australian wildfires were decimating wildlife, destroying property, and killing dozens of people. Australia is going to need a massive influx of funds to even begin to address the damages caused by these unprecedented bushfires. One Los Angeles based adult entertainer decided to use her talents to help raise funds (and awareness) for Australia's plight.
The 20-year-old model dubbed herself "The Naked Philanthropist" and began offering nude photos to those who donated to charitable organizations leading the rebuilding efforts. On January 3rd, she tweeted, "I'm sending nudes to every person who donates at least $10 to any of these fundraisers for the wildfires in Australia. Every $10 you donate = one nude picture from me to your DM (direct messages). You must send me confirmation that you donated. The tweet included contact info for more than a dozen Australian charities, as well as an NSFW teaser photo.
The campaign quickly picked up steam. The self-described "online sex worker" expressed her surprise at how much attention her efforts gained. In an interview with Buzzfeed News, she said, "I was expecting to raise maybe $1,000, but the tweet blew up." By January 7th, The post has been liked more than 172,000 times, shared more than 73,000 times, received more than 3,700 replies.
More importantly, Kaylen's tweet was able to raise more than $700,000 for these important charities. Kaylen was showered with praise. Articles were written saying things like, "not all heroes wear capes. Some wear nothing at all." The Twitterverse said things like, "Sex workers are single-handedly saving Australia and I am here for it," said another." Another admirer tweeted, "She's really out here harvesting raw horny energy for a good cause. Mad respect." Even some from the anti-porn crowd felt the need to offer their tepid support, with statements like "I don't support how you did it, but GOOD JOB."
However, Kaylen's newfound notoriety has been all sunshine and rainbows. Unfortunately, some decided to share the private images they received from Kaylen for free on public forums, which not only threatens Kaylen's brand but violated her sense of autonomy. She lashed out in a series of tweets, saying, "Leaking someone's nudes is wrong and illegal. I hate being vulnerable on the internet. Y'all are mean and cruel … Just imagine if it was you in the spotlight right now."
Of course, there was quite a bit of backlash from various trolls slut-shaming her. All the attention reportedly prompted Instagram to deactivate her account. It also caused discord in her personal relationships, as well. These consequences caused Kaylen to become deeply frustrated with the otherwise successful project. She tweeted, "Y'all don't even care about the actual charities anymore. Y'all only care about every other aspect. This has lost all its true value and meaning. Y'all are ruining this."
Kaylen was hardly the first person to strip down for a good cause. From shirtless firefighters posing with kittens to pornstar Mercedes Carrera funding a STEM scholarship through an adult live cam show. Charity porn has been around for years. In fact, Kaylen's tweet prompted other models to make similar offers, including several who joined Kaylen in donating to the Australian bushfires. Kaylen's power as an influencer has caused a ripple effect, which has benefited countless charities.
However, serious controversy has now sprung up in regards to the way Kaylen has used her influence on other models. Kaylen, who uses the adult social media site OnlyFans, issued a casting call many netizens considered suspect. Suddenly, the Naked Philanthropist was being accused of sex trafficking.
On March 3rd, Kaylen tweeted, "I am looking for girls with little to NO only fans or sex work experience who are interested in getting started. You will live in a mansion with approx 15-20 other girls and will be trained on how to be successful on only fans and social media. We will also be filming for TV and YT… Comment below if you want an application to be cast for LA Dream Girls."
People called the tweet "shady" and said she was a "pimp." She deleted the tweet and released a series of videos defending herself. Kaylen attempted to explain that she just wants to help emerging sex workers by providing the tools they need to be successful. Predictably, this only fueled the Twitter outrage machine, with many people still slinging vitriol against the young model.
Others, however, have expressed some interest in her proposition and what it says about sex work in general. Unilad says that Kaylen's post draws attention to the growing popularity of sites like OnlyFans, and perhaps even suggests that sex work, in general, is becoming more socially acceptable. YouTube news host, Philip DeFranco says his initial reaction to her tweet was that it sounded like an interesting, potentially profitable idea.
It may be impossible for us to ever really know what Kaylen's motivations were behind the casting call, however, the public is rarely very charitable when examining the choices of women who draw power from their own sexuality. I cannot say that the backlash to this entertainer has been so merciless.
So what do you think? Is Kaylen an innovative entrepreneur in the ever-evolving adult entertainment industry? Is she using her 15 minutes of fame to exploit vulnerable young girls? Is she just another sex worker trying to get by? Let us know your take in the comments!