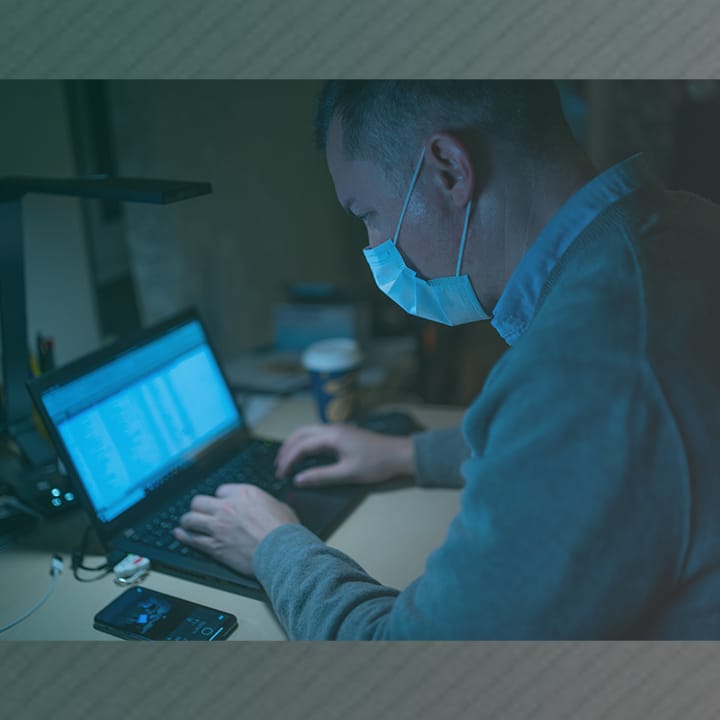 Apr 10, 2020
Pandemic Porn: How COVID19 Affects the Industry
Reading time: 4 minutes
Unless you've been living under a rock for the past 3 months, we're sure you've heard about the Novel Coronavirus by now. The World Health Organization (WHO) officially declared the outbreak a global pandemic on March 11th. The virus has caused major changes to the daily life of millions of people around the world, having a major impact on nearly every industry across the globe. Today, we're taking a look at some of the ways in which COVID19 has effected the Adult Entertainment industry.
Porn Viewership Up:
With many citizens around the world on lockdown, and others practicing voluntary social distancing, an unprecedented number of people are finding themselves trapped at home and more than a little bored. To combat cabin fever, many are turning to porn for relief. At coupons, we've experienced an over 100% increase in user traffic since the crisis began. PornHub has said its viewership has grown exponentially since February 24th - with daily use increased by over 11% every day.
Corona Virus Porn Is Totally a Thing:
Rule 34 of the Internet states that there is a porn version of anything you can think of. In fact, those of us that track porn trends have long known that anything that dominates the headlines - from Game of Thrones to Donald Trump - will become popular search terms on porn sites. COVID19 is just the latest in a laundry list of such examples.
While hazmat suits and coughing fits might not immediately strick you as obviously sexy, believe it or not, the Coronavirus lends itself to porn more naturally than many headlines that have been sexualized by the porn industry over the years. For one, psychologists have long argued that sexualizing your fears can be a perfectly healthy, normal way of confronting them. They attribute the popularity of BDSM, consensual nonconsent (rape fantasy), and incest fantasy porn in large part to this phenomenon. As anxiety over the pandemic grows, Corona porn could be a salve for many people's frazzled nerves.
Furthermore, so far most Corona porn has taken on a slightly goofy, satirical tone. By making light of an undeniably dark chapter in global history, the industry is effectively cutting the tension through the use of humor. Porn essentially provides comic relief as this global melodrama plays out.
Free Porn:
PornHub has long been known for its altruism, in addition to its enormous database of adult entertainment. It should be no surprise then that they are doing their part to help flatten the curve, by encouraging people to stay home and avoid infection in this time of crisis. They initially offered free premium subscriptions to Italy, which has been hit especially hard by this potentially lethal disease.
However, in a tweet issued on March 24th, the porn giant expanded the offer to the entire world through April 23rd. They expanded on their reasoning in an official statement. Vice President Corey Price said, "With nearly one billion people in lockdown across the world because of the coronavirus pandemic, it's important that we lend a hand and provide them with an enjoyable way to pass the time."
PornHub's Altruism Grabs Headlines Again:
Free porn subscriptions aren't the only way PornHub is seeking to be a good global citizen (and secure a little goodwill) during this unprecedented global event. They have gone on a particularly large donating spree, attempting to offset the damage of this horrible pandemic.
Firstly, they have donated 50,000 surgical masks to medical workers in New York City. The Big Apple was facing a huge shortage of masks and other protective gear, as they became the city with the newest Coronavirus cases in the world. These masks will help protect nurses, doctors, paramedics, and other first responders in the city, which now has over 23,000 confirmed cases of the deadly virus.
In addition to the masks, PornHub has pledged to donate 50,000 euros in Italy, Spain, and Germany. The donations are being made to local organizations battling the outbreaks in these countries. This money is intended to fund efforts to buy additional masks and badly needed medical equipment.
PornHub's Coronavirus Relief Package also includes a 25,000 donation to the Sex Workers Outreach Project. The donation to the advocacy group is designed to assist pornstars and other sex workers who've been affected by the virus. Like other workers in the gig economy, sex workers are experiencing a massive disruption to their income at this time, so donations of this kind are particularly important.
Lastly, PornHub has agreed to reduce its fees for models during this time. That means those uploading content to PornHub this month will get to pocket 85% of sales from PornHub and their affiliated sites, rather than the typical 65%. Given the enormous spike in porn sales, while many people are on lockdown, this could make a huge difference to a number of entertainers.
Porn Shoots Shut Down:
While porn viewership may have increased, porn production is experiencing the same challenges as most industries during this crisis. Shoots are being postponed or canceled to avoid spreading the virus onset. The Free Speech Coalition (FSC), a nonprofit trade organization for the adult entertainment industry, has called for a voluntary shutdown of all productions in the US and Canada, at least through the end of the month.
Like other freelancers, this could have a devastating economic impact on those in the industry. However, health and safety have to take president. The industry is strategizing to find ways of moving forward with minimal risk to its employees.
Cam Girls:
One potential avenue of relief may be available to the adult entertainment industry. We've recently penned a few articles about so-called "cam girls" offering live streams with adult content. This is an emerging format in the industry and was already trending before the Corona outbreak. Since these sites are typically just one girl (or guy, or non-binary person) and their camera alone providing entertainment, this aspect of the industry can continue without risking spreading disease through social contact.
I recently spoke to a friend of mine who has such a channel. She said that, on a typical day, there are usually a dozen or so girls live on the site she prefers to stream from. This week, there were over 200 at any given time. However, in spite of the competition, she had at least as many customers as ever, because more people are seeking this kind of service.
Cam girls services may be uniquely valuable in this difficult time. Not only can they provide entertainment in a safe way, but they provide a level of intimate contact that traditional porn cannot. Because customers are actually interacting with a live human being, it can provide a sense of genuine human connection. This is likely to be especially valuable for people isolated in their homes, alone.