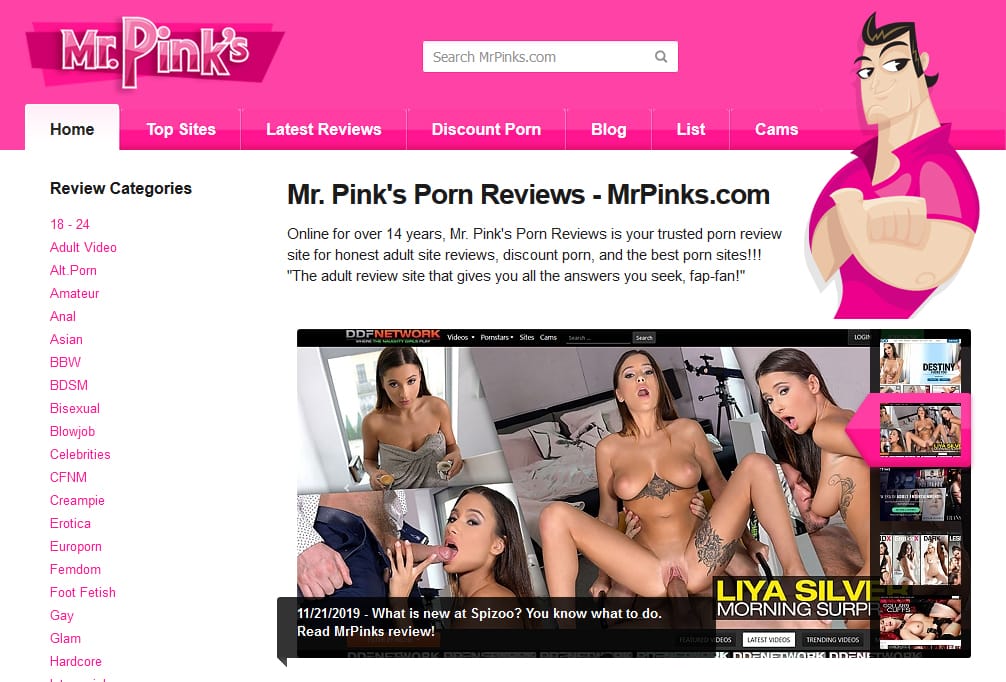 Dec 03, 2019
Favorites: Porncasts, Mr.Pinks & The Heirs to Tumblr
Reading time: 3 minutes
As you may have noticed, we here at Coupons.XXX are huge fans of high-quality adult entertainment. We've recently been connecting more with other leading industry professionals. The adult entertainment field is extremely broad and covers a huge range of media platforms. This week, we have a lot of new favorites to share with you - including everything from porncasts (yep, that's porn for your ears), events, and even other porn blogs you should be checking out!
Porncasts
Porncasts are essentially erotic podcasts that are available in a number of different formats. You can find guided masturbation sessions, dirty audiobooks, or fully dramatized pornographic audio plays. We're so excited about this emerging trend, you can expect our team to do a full write up of it in the very near future. In the meantime, here are the broad strokes.
Many industry analysts are claiming that audio-only porn may be the way of the future. This type of porn even recently made a story in the New York Times. Some apps and sites that are trying to get in on the ground floor include Quinn, Dipsea, and Ferly. Keep your eyes out for more of these types of sites as the audio side of the industry grows.
Mr. Pink's Reviews and Porn Blog
We've discovered the Mr. Pinks website and blog, and we're pretty excited about it! Like Coupons, Mr. Pinks offers reviews of a variety of premium porn sites. They have feature porn from a broad range of categories, including BDSM, Celebrity, MILF, Lesbian, and Anal. They have reviews of popular porn sites like AdultTime, Abby Winters, and Fem Joy.
As much as we can appreciate a good porn review (obviously), we are most excited about their porn blog! Each week they do a round-up of all the best porn they've discovered and include it in Mr. Pink's Weekly Report. This week's report includes information about 18Eighteen, Scoreland, and Penthouse Gold.
In addition to the weekly reports, they post about adult industry news, new adult products, websites, deals, discounts, and sales. In fact, they've even included a post about our annual Black Friday Sale. There are stories about adult industry niches you're unlikely to find on a typical news site, like the post they offered about California's Pornstar Escort Goldrush. They even posted a guide to naughty Halloween costumes!
Popular tags from their site include Adult Movies, AVN, Celebrities, Porn Stars, and Entertainment Events. They cover a ton of fun, adult-themed topics and there is surprisingly little overlap between our blog and theirs. So if you're looking for a new porn blog to explore, this might be a good one for you to check out!
More Porn Blogs
If you're looking for a blog that curates sex toys, and you enjoy comics, Oh Joy Sex Toy is a fun site that has easy to follow, comic book style reviews of various sex toys. If you're looking for more traditional views, you can follow the adventures of Piph and her (self-proclaimed) discerning vagina on Hey Epiphora.
Maybe your sexuality doesn't fit so well into a comfortable, traditional, heteronormative box. Or maybe you want to check out the kinky inner workings of a lifestyle that is different from your own. Either way, Sugar Butch Chronicles has some interesting NSFW stories about sex, gender, kink, and LGBT relationships.
The Casual Sex Project describes itself as, "a collaborative effort to share our true stories of casual sex experiences or hookups of all kinds: one-night stands, friends-with-benefits, short flings, fuck buddies, booty calls, sex with an ex…as long as it's sex (however you want to define sex) with someone you are not in a serious dating romantic relationship with, we want to hear it! The good, the bad, and the ugly." Unfortunately, they aren't accepting new submissions at this time, but they have a huge archive of interesting stories from real users.
NSFW Blog Platforms: The Heirs to Tumblr
Since the infamous Tumblr porn ban announced implemented earlier this year, many analysts, including ourselves, have speculated about where users would take their NSFW content. Some of the sites that showed early promise have not panned out as well as many had hoped. Reddit remains a popular site to freely discuss a broad range of traditionally taboo topics, but it is hardly a blogging platform.
There are, however, some blog sites that allow members to sign up and share whatever dirty stories they please. Fet Life describes itself as "a social network for the BDSM, fetish and kink community." Pillow Fort aims to create a safe and positive environment for users to share the stories they want in communities they create, which includes ones that other sites like Tumblr ban. MeWe is trying to create a positive business model, where users can share whatever they want, and their data will never be shared or sold. Of course, there's New Tumbl, which explicitly aims to welcome ousted Tumblr users with open arms.