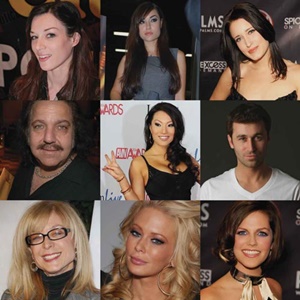 Dec 08, 2017
Get Inspired By Porn - Top 10 Pornstar Quotes & Life Advice!
Reading time: 3 minutes
Inspiration can be found all around - books, TV shows, lectures, movies! Porn isn't an exception to this rule, as many pornstars can provide a unique insight into both human sexuality and everyday life. Their specific work environment allows them to put into perspective some of the most common prejudice and misconceptions about life and sex in general! This being said, we compiled a list of the most popular quotes and life advice about sexuality, in general, you can get from a pornstar. Check them out below!
1. STOYA
"If you think pubic hair on a woman is unnatural or weird, you aren't mature enough to be touching vaginas."
We full heartedly agree on Stoya on this one. There is no place for objectifying women, as well as an insult based on personal preference - such as growing out your pubic hair! If you can't deal with such a thing, we're sorry, you probably aren't mature enough yet to be touching vaginas. Embracing the differences and the natural way our bodies are is not only a part of growing up, but a sign of sexual maturity!
2. RON JEREMY
"You can not blame porn. When I was young, I used to masturbate to Gilligan's Island."
People tend to jump to conclusions, especially when it comes to porn. But how much can be actually traced back or blamed on watching adult content? Some would blame it for everything from bad/immoral behavior to unrealistic expectations in women. Taking a step back, let us be reminded that we're all sexual beings! Just as the legendary Ron Jeremy makes his point here, if it's not porn - it's going to be something else. There's no point in suppressing or denying both people's sexual habits and needs, or blaming pornography for its eventual shortcomings. Free yourself sexually, masturbate freely!
3. JAMES DEEN
"I don't define myself as straight,because if I meet a guy and I'm attracted to him, I'm going to have sex with him."
"I just have yet to meet the guy. I don't like labels, I like freedom."
Labels are a given in this day and age, especially when it comes to sexual orientation. A lot of people put up sexuality as being one dimensional when in reality it isn't! As James noted, most of the times it's somewhere in between. For the vast majority of open-minded people being straight or gay isn't one of the other, it's often both! All it takes is a bit of freedom of choice to put things in perspective. Remember to keep an open-minded at all times, you might find yourself experiencing something new and exciting.
4. JENNA JAMESON
"I think it's a major epidemic in women, faking orgasms. So many women in this world feel like they are put on this planet to please men, that they have to fake, and they never worry about their own pleasure."
Women fake orgasms on a daily basis, this is a fact. Why? Because of emotional expectations of a relationship and to avoid the possibility of hurting your partner's feelings. While this is a selfish act as it gets, let's try seeing the other side of the issue. Subjugating yourself to a lifetime of pleasing others, it leaves very little room for self-pleasure! Jenna makes a good point here, standing up for the empowerment of those who never work for their own sexual welfare. So don't be shy, communicate with your partner and work on getting there! There's really no room to be shy about such issues.
5. NINA HARTLEY
"Now I work with women who are younger than my breast implants."
Working in porn is no small feat, and Nina Hartley may know this best. One of the most famous pornstars out there, her career lifespan is nothing short of impressive! Her testament is equally as compelling, as pornography does not discriminate against age. Mixing young and old actresses reveals certain aspects of sexuality thought lost or hidden away behind a sturdy exterior! Equally susceptible to change, one thing is worth remembering - sex is and sexuality defines us, no matter how old or young you may be.
6. BOBBI STARR
"I think some people recognize my butthole before they recognize my face."
Anal must be one of the most popular niches in porn. However, there was a time when such a thing was considered a taboo! It was exactly legends like Bobbi and her adult work that made things like anal into what it is today - another form of sexual expression. If you're sexually curious, there's no shame in trying something different than vaginal sex, right? Remember, preference and safety if everything, so make sure you do find someone that you trust & make sure he/she actually enjoy it!
7. SASHA GREY
"We do have a distorted view of our fantasies in society, but that's because we don't talk about them enough."
There's a lot of fantasies that are swept under the rug in an effort to moralize society in general. The end result of such thinking? A lot of them end up being mislabeled and interpreted, especially in conservative society or traditional environments. However, that doesn't make them go away - quite the opposite! Not being able to express or act on your fantasies due to external factors or an oppressive environment is the worst possible scenario. The advice here? Talk about your fantasies and issues, don't let things go unspoken because of shame or peer pressure!
8. KIMBERLY KANE
"I really enjoy the performance aspect of porn. Some of the best sex scenes to me can be poetry, and I think sexuality can be an art form."
Can porn be an art form, an expression of your inner self? We strongly agree with Kimberly on this matter, as porn started off as a form of erotica. Truth be told, good porn is somewhere in between the two! There is a lot of generic content out there, but sooner or later you do come across something that's worth all the praise given. In moments like that, the sex becomes poetry, and everything turns to art! Don't be afraid to express yourself, there is no shame in having an active sex drive.
9. PRINCESS DONNA
"People don't understand that the main ingredient to everything is consent. I don't believe that there is any fantasy too extreme or too out there to enact between two consenting adults in a safe environment. I actually think that it helps people grow and become comfortable with who they are."
Sex and sexual preferences have long been known to be a source of some dispute. Arguing about morals and what may seem like the perverse nature of certain things may seem foolish, but such things are rooted deeply in the nature of today's society. As Donna so carefully pointed out here, if you look closely only one simple thing matters here - consent! There's no point arguing about how deviant or repulsive something is when it involves two consensual adults. The extremity or the complexity of a fantasy thing can be a projection of such a growth, as people become more accustomed to who they are! There should be no boundaries between consenting partners, as long as it's safe and within the law.
10. ASA AKIRA
"But life is too short to masturbate silently."
Some people would consider sex and sexual pleasure something to be ashamed of. This kind of thinking led to all kinds of different stigmas about masturbation - firstly as something you do in silence! Being a matter of the freedom of expression as much sexual liberation, masturbation is a form of release. That being said, Asa has a point here - life's too short to be lived in silence! If we're talking about pleasure, there's no shame in expressing it vocally or otherwise. Breaking free of such common stereotypes is something that's expected when it comes to leading a pleasurable sex life! Don't let anybody tell you otherwise, masturbate away and scream your lungs out.
DISCUSSION: What is your all-time favorite pornstar quote?