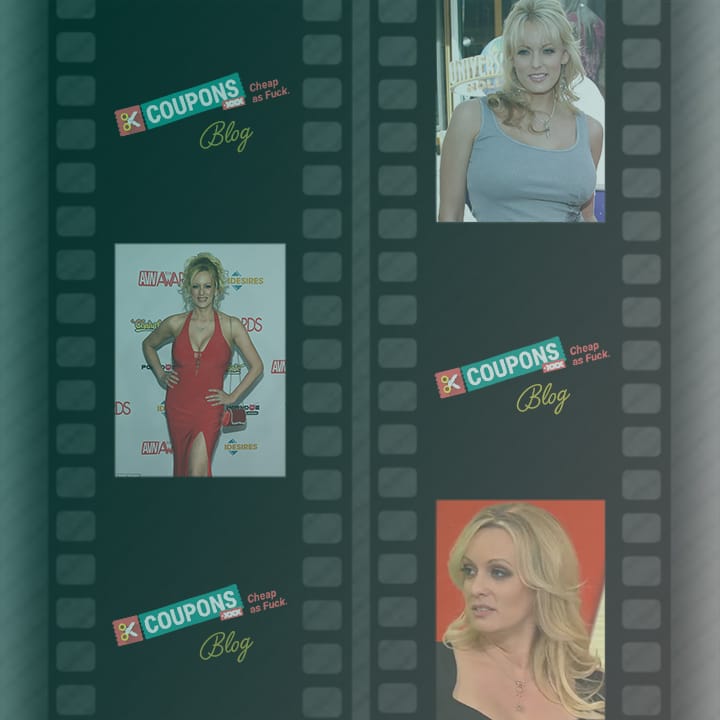 Sep 06, 2019
Stormy Daniels is Back in The News
Reading time: 3.5 minutes
Pornstar Stormy Daniels is back in the news this month. I say "back" although, I must admit, Stormy has been pretty good at grabbing headlines since 2018, when the scandal broke about her alleged affair with Donald Trump (and, of course, the $130,000 he allegedly paid her to keep quiet about it). Stormy Daniels has been trending in both the adult industry and mainstream news, since then.
So what stories bring her back into the limelight now?
Wrongful Arrest by Now Disbanded Vice Squad
The first major headline for Daniels this summer came on July 31st when Columbus, Ohio's Interim Police Chief, Tom Quinlan, announced that they'd be bringing charges against 5 former Vice Unit officers over the allegedly inappropriate 2018 arrest of Daniels. She was arrested during an appearance at a strip club on July 11, 2018 and charged with violating Ohio's "Community Defense Act," which prohibits "nude or semi-nude" dancers from touching patrons. Daniels has since filed a lawsuit alleging that the arrest was politically motived, and in direct retaliation against her for suing Donald Trump.
In the announcement, Quinlan says, "The five officers from the now-disbanded Vice section who are being departmentally charged this week include a commander, a lieutenant, a sergeant and two of the arresting officers. These officers violated our rules of conduct. The range of discipline for these officers can include a reprimand, a suspension, demotion, and or termination."
The FBI launched its own investigation into the Vice Unit last September, and it appears that an inappropriate arrest of Daniels is the very tip of the proverbial iceberg. Since there investigation began, three detectives were removed from duty, including Rosser and Lancaster. The third, Andrew Mitchell, has been indicted on multiple charges including witness tampering and obstruction of justice. He also stands accused of multiple acts of kidnapping, false arrest, and sexual assault, though charges have yet to be filed regarding those allegations. While Daniels may have been arrested inappropriately due to her notoriety, that same fame may have saved her from enduring a brutal sexual assault, as others have accused these former officers of after they were arrested on trumped-up charges.
New Developments in the Trump Scandal
Speaking of Trump, on August 1st a Manhattan-based state prosecutor subpoenaed Trump's family business, reviving the investigation into hush-money paid to Daniels during the 2016 presidential campaign. According to the district attorney's office, the inquiry is to examine whether any senior officials at the company filed false business records about the hush money, which would be a state crime.
Trump Organization Attorney, Marc L. Mukasey called the DA's tactics a "political hit job" claiming, "It's just harassment of the president, his family and his business, using subpoenas as weapons. We will respond as appropriate."
In addition to subpoenaing the Trump Organization, The Manhattan district attorney's office has also issued separate subpoenas to American Media Inc., the parent company of the National Enquirer. The tabloid's owner has admitted to having a role in facilitating the payment between Trump's team and Playboy Playmate, Karen McDougal, who was also allegedly paid for her silence after an affair with the now-president. American Media Inc claims their motives in working with the Trump team was to "prevent" the scandal from "influencing the election." However, Karen McDougal's payment hasn't been headline news in the same way that Daniels' has been.
This scandal has already lead to one conviction. In August 2018, former Trump attorney, Michael Coen pleaded guilty to eight criminal charges, including a campaign finance violation stemming from Daniels' payment. He swore under oath that the payment was made "in coordination with and at the direction of a candidate for federal office." Cohen was sentenced to three years in federal prison. While Trump initially denied any knowledge of the payment, he later claimed that he reimbursed Coen for this expense "personally" and did not use any campaign funds.
Michael Aventti Scandal
Earlier this week Stormy Daniels made the news again, when her former lawyer, who now stands accused of stealing $300,000 from her, told a Manhattan federal judge that the case should be moved to California.
Aventti's lawyer argued that this matter is "virtually identical" one in California, where Avenatti was indicted 36 counts of misappropriating funds from five clients. California prosecutors confirmed that they were ready to try Daniels' case as a part of a sprawling wire fraud case they launched against Aventti back in April.
In addition to embezzling clients, the California charges also include 19 counts of failing to file income tax returns. The New York case alleged that he forged Daniels' signature multiple times, authorizing payments to himself and his firm, which he then misappropriated for personal use. The California charges alone could land him in federal prison for up to 335 years, if he's convicted.
As of now, the New York charges pertaining to Stormy Daniels are scheduled to remain in New York. Both the District attorney and the judge presiding over the case agree that the similarity of the California charges do not negate his alleged crimes committed in New York against Daniels.
Conclusion
Fortunately for Stormy Daniels, she has seemingly thrived off of controversy. Her star is rising with each new headline, as these scandals propel her further into the mainstream. We at Coupons wish her luck in her ever-expanding porn career and look forward to seeing her next projects.