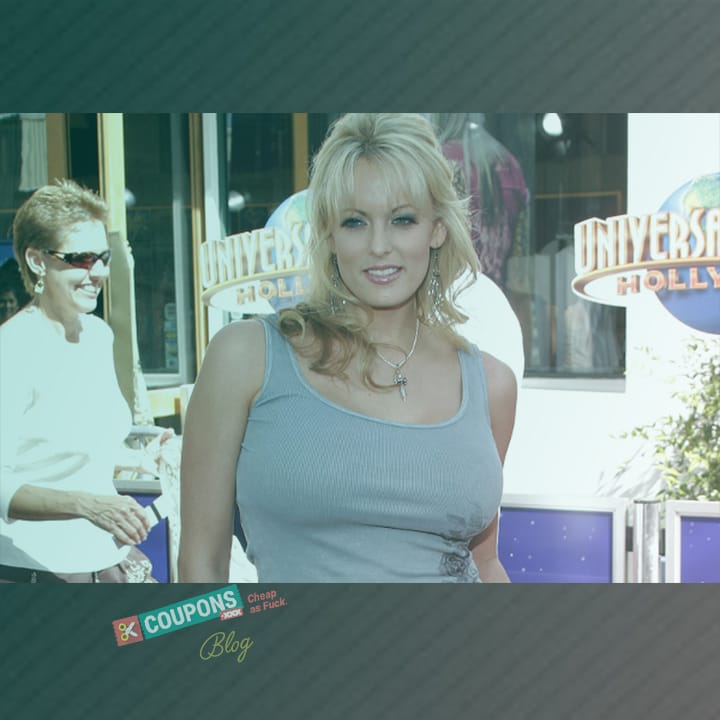 Oct 15, 2019
Surprising Facts About Stormy Daniels
Reading time: 3.5 minutes
Unless you've been living under a rock for the past couple years, you've probably heard the name Stormy Daniels. You've likely heard that she is a porn star, embroiled in some sort of controversy with current US President, Donald Trump. Given how much media attention both Daniels and Trump have garnered over the past few years, it's entirely possible you know quite a bit more than that. However, given that Trump seemed to hop from scandal to scandal with hardly a breath between, it's also possible that your knowledge of Ms. Daniels and the controversy surrounding her has a few holes in it. As you may know, we at Coupons always love filling holes, so here are some interesting facts you may not know about the decade's most written about Porn Star.
Early Life and How She Got Started in Porn
Stephanie Gregory was born on March 17, 1979 in Baton Rouge, Louisiana. Raised by a single neighborhood in what she describes as, "a really bad neighborhood," young Stephanie at one time considered becoming a journalist. She did her first "guest set" as a stripper at the precocious age of 17.
By 2000, she was a featured adult entertainer with the Continental Theatrical Agency. Her stage name was a nod to Mötley Crüe's bassist, Nikki Sixx, who named his daughter Storm. The last name "Daniels" came after she saw a Jack Daniel's advertisement that read "a Southern favorite". She got her start in porn shortly thereafter, becoming an industry favorite nationwide.
It was Devon Michaels who first brought her to a porn set and became her first costar. Her first films were for Sin City and Wicked Pictures. She took the porn world by storm (so to speak), racking up accolades, including the 2004 AVN Award for Best New Starlet.
Personal Life
Like many pornstars, Daniels' personal life hasn't been exactly stable. She was married to fellow pornstar, Pat Myne from 2003-2005, and still bears his (legal) surname (Clifford). She was married to another pornstar, Michael Mosny (screen name Mike Moz) from 2007 to 2009. That tumultuous relationship led to her being arrested in July 2009 on a domestic violence charge by Mosny. Most recently, she married Glendon Crain (screen name Brendon Miller) in 2010. They had a daughter together, Caden Crain, in 2011. They filed for divorce in July 2018 amid the now-infamous Daniels/Trump Scandal (more on that later) and were awarded joint Custody of their daughter. Most recently, the now single Ms. Daniels has come out as bisexual, so who knows where her romantic adventures will take her in the future!
Politics
Given her current vocal opposite to President Trump and her work in the sex industry, one might be forgiven for mistaking Stormy Daniels for some sort of liberal. However, she has always seen herself as ascribing to "libertarian values." She spent most of her life as a registered democrat, all be at a libertarian-leaning one.
In 2009, a group of fans attempted to recruit Daniels to run against Louisana's Republican Senator David Vitter. On May 21, 2009, she formed an exploratory committee, after allegations surfaced about Vitter's connections to a prostitution ring. In August 2009, her campaign manager's car was blown up, though fortunately no one was in it at that time.
In April 2010, Daniels finally declared herself a Republican candidate. Bizarrely, her decision was cemented by the revelation that the Republican National Committee (RNC) had paid expenses for fundraisers at a "lesbian bondage-themed nightclub" in Los Angeles. Daniels said the news"finally tipped the scales" and convinced her that Republicans better represented her long-held libertarian values. "Now I cannot help but recognize that over time my libertarian values regarding both money and sex and the legal use of one for the other is now best espoused by the Republican Party."
After her announcement, she made several listening tours around Louisiana to focus on the economy, women's business interests, and child protection. However, on April 15, 2010, that she announced that she would be dropping her bid for the Senate, owing to a lack of funds, and the fact that the media refused to take her bid seriously.
Trump Scandal
The next time Stormy Daniels' name was connected to politics rather than porn, came in January 2018 when the Wall Street Journal broke the now infamous scandal. Basically, the allegations are as follows: Stormy Daniels claims that she had an affair with Trump in 2006. At the time, Trump was already married to his current wife, Melania. Shortly before the 2016 election, representatives of the Trump team paid Daniels $130,000 to sign a non-disclosure agreement regarding said affair. Daniels later signed a statement in front of her lawyer and publicist denying the affair. The allegations also state that this payment was furnished from Trump's campaign war chest, which would make it an illegal use of campaign funds.
Trump initially denied the payment existed, then denied he knew what it was for. He claims that the payment was set up by his then-lawyer, Michael Coen and that he had nothing to do with it. However, he later admits to personally reimbursing Coen, maintaining that no campaign funds were used.
Coen tells a different tale. In August 2018, he pleaded guilty to eight criminal charges, including a campaign finance violation for Daniels' payment. He swore under oath that the payment was made "in coordination with and at the direction of a candidate for federal office." Cohen was sentenced to three years in federal prison.
Meanwhile, the controversy has remained in the news. Last month, Manhattan state prosecutors subpoenaed President Trump's family business, reviving an investigation into the hush money, and raising further questions about Trump's legal culpability in the scandal.
Life Now
Stormy Daniels has remained a darling of the adult film industry. She has kept her name in the news, typically in opposition to Trump. There is no question that the scandal has turned her into a household name. In fact, according to both PornHub and Xhamster, Stormy Daniels has been one of the top trending search terms in the adult industry since the scandal broke, and it shows no sign of letting up any time soon.