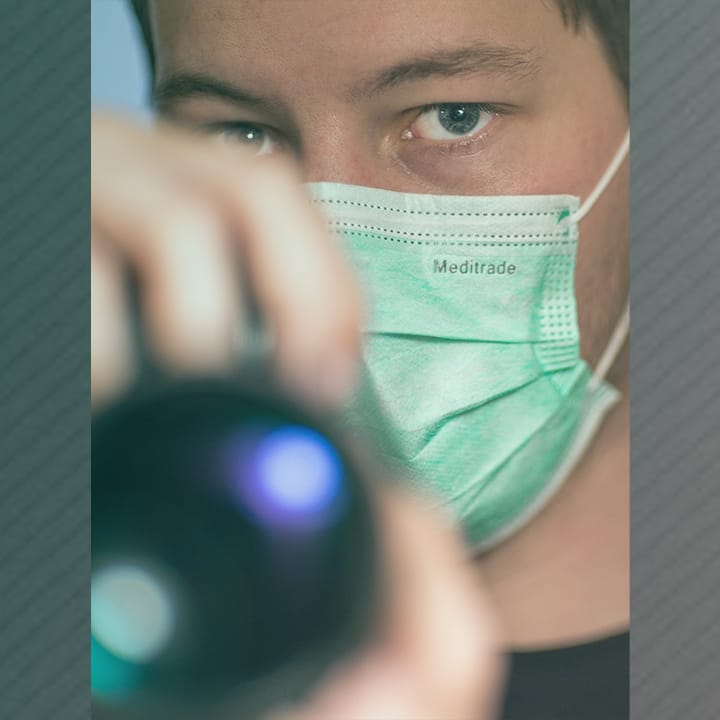 May 15, 2020
The Church vs. Porn: Pandemic Addition
Reading time: 4 minutes
The extreme Christian right has routinely decried the adult industry as "immoral," painting it as a threat to decent communities and family values everywhere. However, when you compare the actions of sex workers and conservative churches during the global crisis caused by COVID19, it is clear why Jesus preferred the company of a known prostitute to religious leaders.
Last month, we described the efforts of industry giant, PornHub, to mitigate the harm done by this terrible disease. They made their premium service free for an entire month across the globe in an on-going effort to encourage people to stay safe at home and to alleviate the boredom experienced by people on mandatory lockdowns.
They also put together an entire Coronavirus Relief Package. This involved donating 50,000 surgical masks to medical workers in New York City and 50,000 euro for hospitals in hard-hit areas like Italy, Spain, and Germany to procure their own personal protection equipment (PPE). It also included a $25,000 donation to the Sex Workers Outreach Project for pornstars and other sex workers who have lost work as a result of the virus. Lastly, they agreed to reduce fees for models during this trying time.
PornHub is a huge business currently experiencing a huge surge in traffic as a result of much of the world staying home on mandated full or partial lockdowns. However, it isn't just the industry giant that is doing its part amid the on-going crisis. The Daily Beast recently profiled a number of small businesses in the adult industry who are helping their communities, despite suffering crippling losses themselves.
James Gruender, manager of Passions Adult Boutique in Central Missouri, is one such entrepreneur. This brick and mortar business has been shut down temporarily as a result of stay-at-home orders. Despite the loss of business, Gruender took it upon himself to use his distribution connections procure PPE from China, which he distributed free of charge to his local community.
"I heard people were having trouble getting them and I ordered them directly from China. I have another thousand N95s coming in Tuesday and doing another giveaway next week… I wanted to put something in the hands of people who didn't have the connections or know-how. Everybody deserves to be safe."
Despite being a small family-run business that has been closed due to the Coronavirus, Gruender is specifically excluded from receiving any aid as part of the CARES Act stimulus package, because he works in the adult industry. "The federal government doesn't care. We have to be a community and it goes both ways. Right now I can find masks and help people out and I hope the community can return that and shop at my place," says Gruender. His altruism is made more poignant because it comes at a time he's worried that his 20-year-old business might not survive the shutdown. "People come here for sexual health and wellness, and if we're not able to keep in business, then a huge part of the community is lost."
The article went on to describe how professional dominatrix, Domina Dia Dynasty, got together with her boyfriend (who happens to be a metal fabricator) to create face shields. Together, they produced and donated over 200 shields to local healthcare workers.
Pornstar and former Hollywood Actress, Maitland Ward, was among the sex workers driven to help her community amid this crisis. "I think people are very community-driven right now. They want to be a part of something because we are so socially isolated right now," says Ward, when asked about her weekly webcam shows which she uses to raise money for performers with pandemic related hardships. She continues, "I also bought 150 Onlyfans accounts, so the performers' names are seen by my fans who might want to subscribe and it helps them out that way too... It's a really uplifting thing in the community right now. I think the outreach is going to mean more than just the money, it's that we're all looking out for each other, we're all in this together."
Vixen Media Group is also seeking to help struggling performers during the pandemic. They are offering $250,000 in customized packages of equipment so that performers can create quality content from home during the Coronavirus crisis. Equipment is expected to include items like cameras, ring lights, and sed toys.
Of course, some pornstars were using their talents for charity long before the pandemic struck. We've previously written about pro wrestler, Dave Marshal, who used his OnlyFans site to raise money for mental health charities, following his father's suicide. We've also written about the so-called "Naked Philanthropist" who raised approximately $1 million in aid after the Australian wildfires. However, this new crisis has definitely brought out the charitable side of many people in our industry.
While the adult industry struggles to protect the vulnerable by coming together (while remaining physically apart), many conservative churches seem hell-bent on putting their congregations in harm's way. Religious leaders from across the world are ignoring warnings from health officials and defying stay-at-home orders, to hold services in person. Many of these services aren't even practicing social distancing or encouraging worshipers to wear masks.
A Louisiana pastor recently defied not only the state's stay at home order but his own house arrest, to hold services for over 100 people. A church in Lodi California was put on notice after it announced that it planned to go ahead with in-person Easter services. Thousands flocked to Easter services throughout the country of Belarus, according to the New York Times. According to Total Croatia News, a journalist and cameraman were attacked in front of a church in Sirobuja while attempting to report on Easter services being held there in defiance of the lockdown.
Prominent Christian author, Josh McDowell claims that watching porn during the coronavirus pandemic is the "most destructive act in human history." Even setting aside historical atrocities committed by the church like the Crusades, Spanish Inquisition, and Witch Burning Trails, we'd argue that the worst factions of the Christian Church continue to be more of a threat to humanity than the adult industry could ever be.
Fortunately, the porn industry has found little ways of striking back. Recently, porn giant X-Hamster trolled the Utah legislature over their anti-porn bill, while PornHub rides a tidal wave of good press from its charity work. Now more than ever, the porn industry is proving to be a vital part of the global community. Churches, on the other hand, need to get their acts together and help god's children in a way that doesn't endanger their lives.