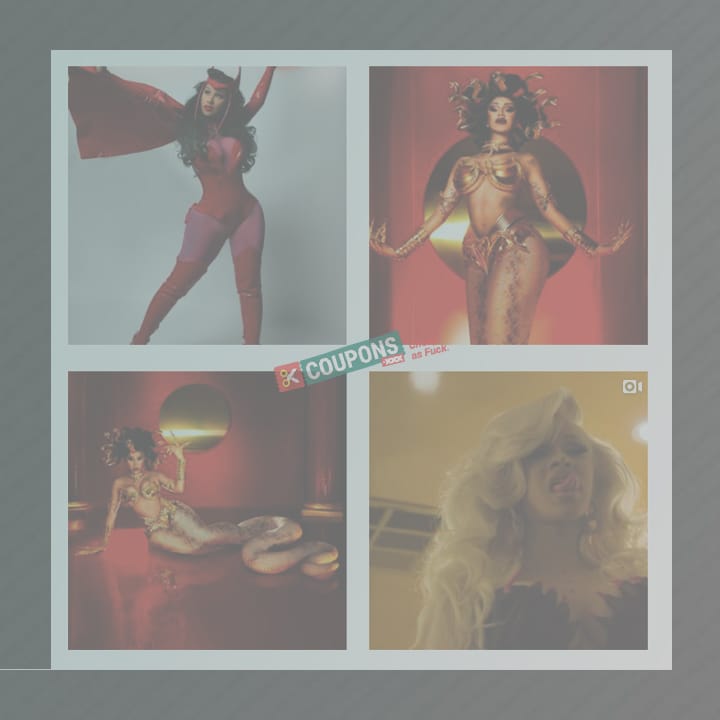 Nov 17, 2020
WAP, Cardi B, & Slut Shaming in 2020
Reading time: 4 minutes
Cardi B is the former pornstar who successfully transitioned to mainstream stardom. Here at Coupons.xxx, we love her. She is certainly no stranger to controversy. She publicly denounced Trump and endorsed Bernie Sanders back in 2016, and again during the primaries earlier this year. There was the famous incident when she threw a shoe at fellow rapper Nicki Minaj. She was initially accused of trivializing the LGBT community with her collaboration on the song "Girls" before explaining her personal history of lesbian experiences. She's also been accused of drugging robbing men who came to her room for sex before she was famous, an accusation which she denies.
It isn't surprising then that she has released one of the biggest and most controversial songs of 2019. WAP - short for Wet Ass Pussy, celebrates female sexual pleasure. It should be no shock to anyone paying attention that this has not been universally well-received.
GQ Magazine reported on the controversy, describing a number of reactions from various political figures who decided to climb up on their soapboxes to complain about this "vile" song. They report, "James P. Bradley—a Republican running for the House in California's 33rd District—woke up and seemingly tripped a Rube Goldberg machine in his house that ended with pressing play on 'WAP.' He then proceeded to unintentionally listen to it in its entirety, inspiring the following tweet: 'Cardi B & Megan Thee Stallion are what happens when children are raised without God and without a strong father figure. Their new 'song' The #WAP (which i heard accidentally) made me want to pour holy water in my ears and I feel sorry for future girls if this is their role model!'"
They also describe the reaction of republican candidate DeAnna Lorraine, who tweeted "Cardi B & Megan Thee Stallion just set the entire female gender back by 100 years with their disgusting & vile 'WAP' song." Like several conservative politicians, Lorraine was quick to point out that Cardi B had campaigned for Sanders.
Perhaps the most famous reaction to WAP came from The Daily Wire founder and right-wing troll, Ben Shapiro. He dedicated an entire segment on his show to "dryly … reciting the lyrics to "WAP," sardonically adding that the song is 'what feminists fought for.' (Shapiro, who is 36 years old, repeatedly referred to the chorus with the phrase "wet ass p-word.").
Twitter was understandably unkind to Mr. Shapiro after this ridiculous segment, however, rather than backing away slowly, he doubled down on his anti-WAP stance with a tweet stating, 'As I also discussed on the show, my only real concern is that the women involved – who apparently require a 'bucket and a mop' — get the medical care they require. My doctor wife's differential diagnosis: bacterial vaginosis, yeast infection, or trichomonis [sic]." As you might imagine, this was met with an outpouring of sympathy for Mrs. Shapiro, who either truly believes or at least felt compelled to reassure her husband that having a wet pussy is a medical condition.
It isn't just conservative politicians railing against WAP. CeeLo Green felt the need to criticize the song in an interview in the U.K. publication Far Out. After many social media denizens were quick to point out that perhaps a man accused of sexual assault in 2013 shouldn't be the arbiter of sexual ethics, he issued an "apology" saying that there was a "misunderstanding."
Even Carol Baskin of Tiger King fame had to get involved. The alleged murder and reality show star calls the video "lurid" and claims that "the worst part is that it glamorizes the idea of rich people having tigers as pets." Cardi B responded by saying, "I'm not gonna engage with Carole Baskin on that. Like, that's just ridiculous you know? Oh, Lord. Like, girl you killed your goddamn husband."
In that same interview, Cardi B responded to the conservative backlash in general. In short, she's laughing all the way to the bank. She says, "They keep talking and the numbers keep going up." The video has currently passed 85 million views on YouTube and has enjoyed its time as the #1 download iTunes, Spotify, and Apple Music.
While we are happy for Cardi B's success, we do not share her enthusiasm over the backlash. The year is 2020 and we're still, as a society, deeply uncomfortable with a woman owning her own sexual pleasure. Music videos, and particularly rap videos, have aggressively sexualized women since their inception. However, this video notably features a wide variety of female performers, including Kylie Jenner, Normani, Rosalía, and Rubi Rose, but does not show a single man.
The song sample's Frank Ski's 1993 "Whores In This House." The comparatively tame, misogynistic sexuality of that song did not receive the same backlash we're seeing with WAP.
The Lily covers the core of the controversy admirably, saying "For many women, the controversy speaks to an issue that extends beyond the rap world: the policing of women's sexuality, and particularly Black women's sexuality." The bottom line is that sexuality has become socially acceptable in our culture only insofar as it pleases men.
We know that this song isn't going to be everyone's cup of tea. If you don't care for it, our best advice is to move along. The song is an anthem to female sexual pleasure. While it purposefully removes that pleasure from the context of male enjoyment, surely sexually active heterosexual men must understand how women enjoying sex and being confident in their sexuality, will ultimately benefit us all.