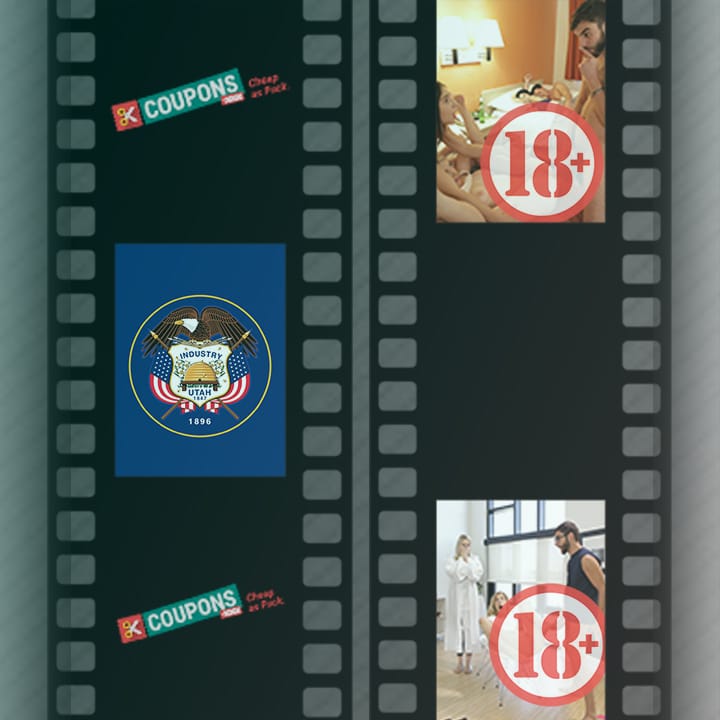 Feb 29, 2020
XHamster Trolls Utah Legislature Over Anti-Porn Bill
Reading time: 3.5 minutes
There never seems to be any shortage of stories of politicians - ironically, usually, the ones who preach "small government" when it comes to social services - trying to stick their noses in other people's sex lives. The latest example of this type of governmental overreach is coming from the state of Utah. At least this time, at least this time our colleagues over at XHamster are helping us all find the humor in the situation.
On February 4th, Republican Representative Brady Brammer introduced a bill that would require all pornographic materials distributed in Utah to bear a very specific warning label. According to The Salt Lake Tribune, the proposed bill would require the warning clearly state that pornography can impair a minor's "brain development, emotional development, and the ability to maintain intimate relationships."
Furthermore, it would require the warning label to state that exposure to pornographic material can lead to "harmful and addictive sexual behavior, low self-esteem, and the improper objectification of and sexual violence towards others, among other numerous harms." The specific wording leaves it (perhaps intentionally) ambiguous whether or not this part of the warning pertains only to minors.
While no one is advocating making porn accessible to minors, the claims made in the proposed warning label are dubious at best. Like many ideas advocated by various politicians, this bill is actually incredibly anti-scientific and goes against our best understanding of the psychological effects of watching pornography - especially if the second part of the warning really is intended to pertain to the general population, including adults.
In fact, a study just published earlier this month warns that people who are made to feel shame about their use of pornography - either by religious leaders or those with a moral ax to grind - often wrongfully believe they are addicted to pornography, even when their actual usage is below average. This belief can cause significant psychological distress, even though it is not grounded in reality. In other words, there is clear scientific evidence that suggests imposing a warning label intended to inspire negative feelings about pornography can cause real harm, including low self-esteem, whereas there is no evidence that viewing porn without shaming will do any such thing.
Brammer says that the door to this legislation was opened when Utah declared pornography to be a "public health crisis" in a unanimous vote back in 2016. While that declaration didn't have any immediate binding effects, it did declare Utah's official stance on porn. Namely, "this biological addiction leads to increasing themes of risky sexual behaviors, extreme degradation, violence, and child sexual abuse images and child pornography."
Brammer says that his odious bill was inspired by California's Proposition 65, which requires businesses to place a warning label on any chemicals that are shown to be carcinogenic or cause birth defects. He says he wants Utah to enforce the porn warning the same way. Since Ca Prop 65 has already held up in court despite a First Amendment challenge, Brammer believes that the legal president is on his side.

If Brammer's bill passes, all printed pornographic material in the state of Utah must prominently display this warning on its cover. All pornographic videos and online content must display the warning for at least 15 seconds before diving into the action. Failure to do so would result in a fine of $2500 per violation. Reporting a violation could entitle snitches whistleblowers to a $500 penalty payment from the distributor for reporting a violation.
According to a local Fox News affiliate, while Brammer's bill is very specific about the wording of the warning, how it needs to be displayed, and what the consequences of violating the proposed law would be, it is extremely vague about what constitutes pornographic content. It could theoretically be applied to anything from Game of Thrones, to a partially nude selfie on Twitter, to actual pornography.
Porn giant, XHamster, wasn't about to let this ridiculous bill pass without comment. Their Vice President, Alex Hawkins told Fox 13, "this isn't the first time that we've had to deal with ignorance and fearmongering in the Utah government around sex." XHamster devised a clever campaign that both promotes their product and trolls the Utah legislature.
Their many Utah customers are now greeted with a voluntary "warning" label as they enter the site. The label reads, "porn may lead to decreased stress, increased happiness, and lower rates of teen pregnancy." Unlike Brammer's claims, there are actually scientific studies to back up XHamster's "warning label."
Hawkins says that the mocking labels are intended to raise awareness of this draconian bill among its many Utah customers. He says it, "seemed like the ideal way to let them know just what the government is trying to censor." Brammer argues that the bill is not actually censorship, since it doesn't prevent anyone from accessing the material in question. However, it is clear that it is meant to shame those who choose to do so, and imposes an unnecessary, unhelpful expense on distributors like XHamster.
According to the Salt Lake Tribune, Brammer's bill (which is officially titled HB243) has yet to face its first public hearing. We here at Coupons fully support our colleagues at XHamster in their trolling attempts. We sincerely hope that XHamster's customers will be inspired to attend these hearings and stand up for their rights to view porn unshamed.