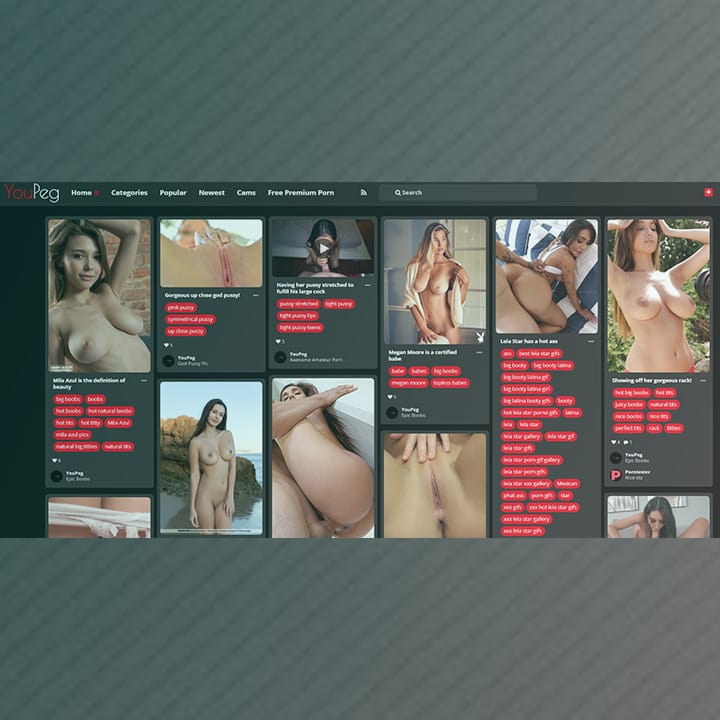 Mar 19, 2020
YouPeg - The Pinterest of Porn
Reading time: 2.5 minutes
Do you know what's better than a coupon? Something that's free!
Today I'd like to share with you a new porn site that I discovered called YouPeg! YouPeg is all about three things, hot xxx pics, gifs, and videos!
As a lover of porn, YouPeg.com has quickly turned into one of my absolute favorite porn websites! YouPeg allows it's users to pin, or in this case "peg" various forms of adult content to their own boards, either for starting a private collection of their favorite content OR for sharing their favorites with the world.
It's very similar to popular social media site Pinterest, except that it's dedicated entirely to porn!
If pegging and sharing porn isn't really your style, you can still make great use of YouPeg. It's as easy as creating an account or browsing as a guest and finding all kinds of great porn! There are tens of thousands of hot free porn pic galleries, porn gifs, and free amateur porn videos to choose from and over 50 categories of great XXX content!
For me personally, as a porn pic and GIF lover, I love YouPeg because it fills the void that Pinterest left open when they decided to get more strict with adult content. In the past, you used to be able to pin anything you wanted to on Pinterest, but as the site became more and more popular, the policies became incredibly strict and now adult content on Pinterest must be "artistic" in nature. Because of this, YouPeg is one of the great porn alternatives to Pinterest. Now don't get me wrong, I'm all for artistic nude content but their policies are so strict that sometimes even an artistic nude photo gets removed!
The Pros And Cons
While YouPeg is great, like anything there are pros and cons to it. One of the biggest pros is that its a great platform for free hd amateur porn pic galleries. With quick load times and thousands of pages of content, if you're a porn pic gallery fan like me, using YouPeg will be like paradise.
It's also a great platform for viewing porn gifs. I must admit, I'm not a huge fan of gif style porn, but if you are then you will love YouPeg.
Now for the cons. In all honesty, I don't think it's a great platform for watching videos. They have plenty of videos to watch in almost every category under the sun, but for me personally if I want to watch a video I'll stick to the major tube sites like PornHub or Xvideos.
In Conclusion…
YouPeg is a great porn site for finding new porn or for sharing your favorite XXX content. If you're a fan of porn pics and gifs, then YouPeg is a must-have site in your bookmarks when it comes to finding quality content to fap to. When it comes to YouPeg, the saying is true! Sometimes the best things in life really are free!