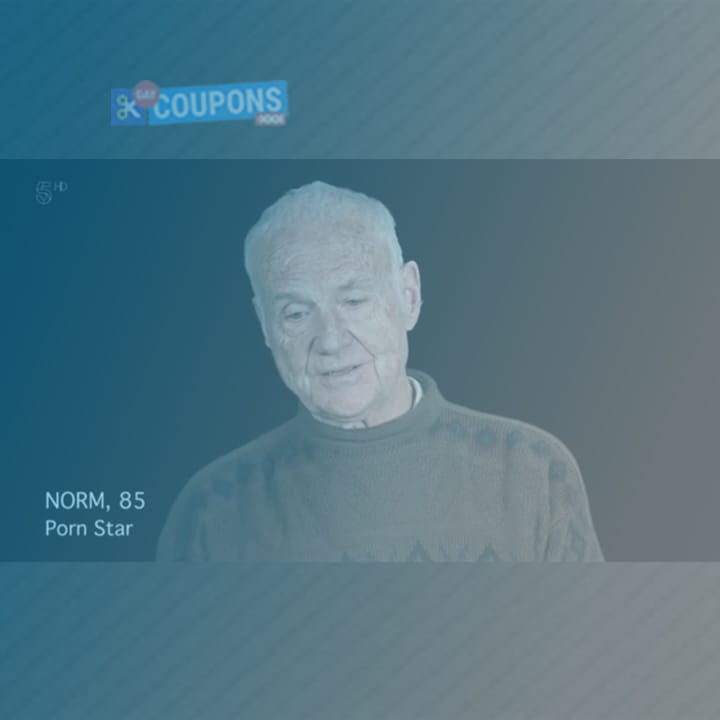 Sep 07, 2019
85-Year-Old Retired Priest Becomes Gay Pornstar
Reading time: 3.5 minutes
Norm Self looks like a fairly typical 85-year-old North Carolina retiree. He entered the Priesthood at age 18 and lived an exemplary, Christian life for many years. He was married for 27 years, before he was finally able to admit to himself that he was gay. A year later, the marriage ended, and Norm finally was able to become his true… well… Self.
Norm is now living his best life. He holds the distinction of being the world's oldest gay porn star. As of this June, he'd completed a total of 4 different films and he wasn't even paid for them. To him, the films feel like "having a party."
Norm is featured in the channel 5 documentary, OAPS On The Game: The Sex Business. In the documentary, Norm explains that his housemate the one who first asked him to appear in an adult film. Norm agreed, saying, "We are going to have sex anyway so why not make it a liberating and bonding experience instead of hiding it away in the shadows?" He spent far too much of his life hiding in the shadows.
He describes his very first experience making gay porn as "splendid" and "delightful." While not everyone finds the porn industry to be 100% liberating, it is very clear that Norm does. He is extremely happy with his decision to enter the industry. He says, "I find these days that my body is indeed a temple where intimacy and ecstasy intermingle; and whenever I am engaged with its erotic energies, I am transported into domains that give assurance of the goodness of all of life, and why I am here, embodied, to spread the good word that it's available to all beings!"
When asked how he felt about being labeled a porn star, he was extremely eloquent. "I have some reservations about the word 'porn.' I support those who are exerting great effort to bring to justice those who are trapping and trafficking helpless persons for (fraudulent) erotic gratification. May their efforts flourish in bringing the guilty ones to justice! But for those who have grown up in a sex-suppressive society where everything outside conventional norms/mores is labeled "porn" in order to suppress it — and who, therefore, find a kind of titillation in being 'outside the norm' of suppression — I'm happy to wear the label."
Norm doesn't like to pin down his sexuality to something as simple as "gay." He does generally prefer to have sex with men, but leaves open the possibility of sexual encounters with women, saying, "I have all the equipment for human sex, and if I'm with a woman and our engagement calls for erotic play, I let her decide what she wants us to do." This is attitude is very 2019 for a man in his 80s.
Norm says he's not worried about friends and family who will cut him out of their lives as a result of his rather dramatic transformation from priest to a gay porn star. He says simply, "that's their struggle." It may have taken Norm a long time to find who he truly is, but now that he has, he seems utterly comfortable and confident in expressing his authentic self.
His new life's mission is to see that all "sex-negative norms are removed from our society's vocabulary and replaced with the implicit message that our birthright is to enjoy erotic joy and bliss." He wants to eradicate all, "false messages installed by a society that sex is at best suspect, and at worst evil — and that its practice is severely constrained to the reproduction of the species and not to be enjoyed. Moreover, sexual behaviors and practices can be learned for the enjoyment and enhancement of this kind of play — for the benefit of all partners!"
These false messages aren't just limited to religious demonization of sex, or homophobia. He also takes issues with the notion that people his age are not thought of as sexual beings. "I think it's sad and destructive that our society has an image of elder human beings as 'sexless.' I have been a facilitator with at least three women and a great many more men in the recovery/restoration of their erotic/sexual response and their joyful delight at the discovery that 'it ain't over until I say it is!'"
Norm sees himself as "a sacred intimate, advanced Tantrica, and minister of erotic education." He sees sexuality as part of your higher self and something which no one should ever be ashamed of. It turns out, he didn't lose his spirituality when he retired as a priest. Instead, he seeks to integrate sexuality and spirituality. His deepest hope is to inspire the next generation of young people to break free and not be "trapped in the norm." Rock on, Norm Self. Rock on.