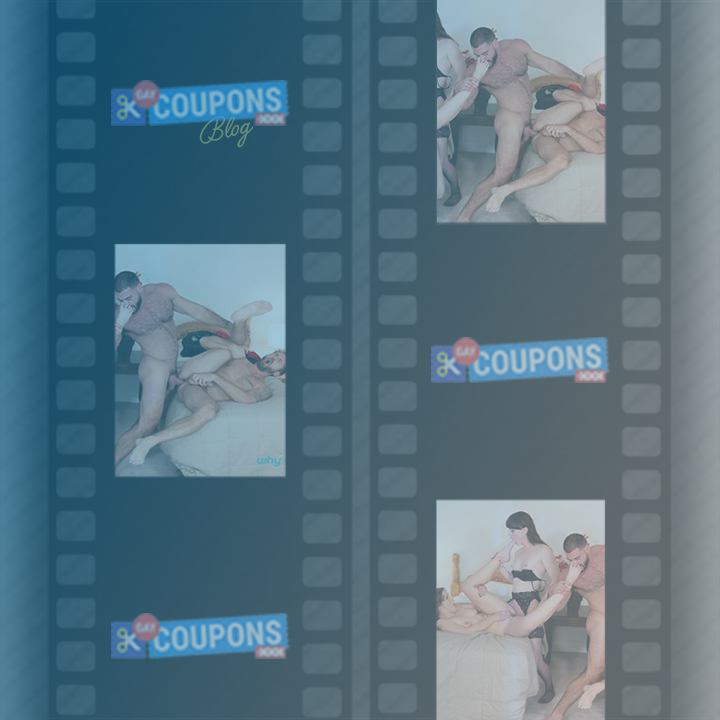 Jul 07, 2019
Bisexual Stigma in the Porn Industry
Reading time: 4 minutes
Many would assume that pornstars are inherently progressive, sexually liberated people, free from the typical biases that plague the rest of us. However, unfortunately, no community is without prejudice. Men who perform in both straight and gay scenes face many obstacles in their careers.
The porn industry, not unlike the LGBT community at large is certainly guilty of bi erasure. Pornstar Peter Pounder used to do exclusively solo videos, before his debut on both Mormon Boyz (now called missionary boys), and it's sister site, Mormon Girlz. Peter was irritated when people thought he was either only "gay for pay" or would eventually come out as just some "gay boy." Aside from having others attack his sexual identity, he describes in an interview with The Daily Dot how challenging it was to find an agent after doing both straight and gay porn.
Industry insiders warn male pornstars that, if they want to do straight porn, they can never do gay videos. Doing even 1 gay porn video can prevent an actor from getting work in the straight porn industry. "Cross over Performers," as they are often called, aren't the only ones whose careers are affected by this bias. Their partners and co-stars can also suffer. Charlotte Sartre confirms in an interview with Paper Magazine that she has lost work, and sensed a major shift in the way people treat her since she began a relationship with her now-husband, cross over actor Lance Hart.
"People who used to be in porn would tell me, 'Ah, you're screwing yourself. Stop now with all the gay stuff...'" Hart says. He has made the best of the situation, though, by creating independently produced gay and femme-domme clip stores. There is a demand for bisexual performers that the mainstream porn industry is reluctant to fill.
Some of the stigmas against bisexual actors stem form panic around the spread of HIV and AIDS. In 1998, the Adult Industry Medical Health Care Foundation (AIM) was established to help to test and to monitor systems for adult industry performers to help stop the spread of STIs on set. However, AIM only required testing every 30s days and many shoots, especially gay shoots, took place outside of the AIM system.
Fears over HIV in the gay porn world were exacerbated by the 2010 scandal when cross over actor Derrick Burts contracted HIV. Derrick did a gay porn shoot outside of the AIM system with a "known positive" actor and didn't use condoms for oral sex. The incident led to intense scrutiny of the gay porn industry and major changes to the way they manage the performer's safety.
Not long after AIM closed its operations. The void they left was filled with the much more stringent Performer Availability Screening Services (PASS) system. Both gay and straight performers are tested every 2 weeks using an expensive RNA test. This test detects the virus 7-10 days before it can even be transmitted. A typical test performed at a doctor's office uses an antibody test, which can only detect the virus about a month after it's contracted, and is nowhere near as accurate as of the RNA test. Results are then posted on the PASS system.
While many express their discomfort with bisexual performers as fear of HIV, there are certainly reasons to suspect that for many, this is simply a rationalization of homophobia. Hart talks about how the straight porn being inherently skittish about certain sex acts that could vaguely be interpreted as "gay," but are not typically associated with HIV. He describes the rigid code conduct for straight male pornstars which frowns upon any form of rectal insertion (fingers belonging to women included) and kissing a woman after you've ejaculated on her face.
Furthermore, if HIV was really the primary concern, the stigma should have decreased when testing became more universally rigid. Also, since 2012, the FDA approved the usage of Pre-Exposure Prophylaxis (PreP) for the prevention of HIV and AIDS. "In the past 15 years in the US, there have been no on-set HIV transmission, everything's happened off-camera in a performer's personal life," Sartre claims (though, given that the Burts scandal was only 9 years ago, I'm going to take this statement with a grain of salt, though Burts seems to be the only case to contradict her claim).
She also adds that the stigma seems to be confined to one's industry practices, rather than sexual identity. "Straight male talent" isn't penalized for hooking up with "dudes or trans women off camera." Some pornstars even moonlight as escorts, and "straight" pornstars don't lose work for work with male clients. Other risky behavior like intravenous drug use and sex without a condom doesn't get performers blacklisted from the industry.
However illogical and dangerous, many only think of gay sex when they worry about HIV. These fears and potential repercussions to their careers cause some female performers to refuse to work with cross over talent. The idea that everyone has the right to choose who they want to work with is a principle that is strong in the porn industry.
This principle was strengthened in 2017 when Actress August Ames received a huge amount of black-lash after she tweeted about canceling a scene with a cross over performer. She ended up killing herself amid this cyberbullying incident. Since then, many in the industry argue that no one should ever be shamed for not wanting to do a scene with someone, regardless of the reason. Many claim it's a matter of consent.
While cyberbullying is a major issue and suicide is always tragic, Sartre points out that this logic could be used to cover a latent prejudice, including racism, homophobia, and transphobia. "You can argue it's your body and it's whatever you're comfortable with, and I can get behind that, but if your comfort is based on prejudice, that bothers me." She adds"If you're really that worried about getting HIV, either get on PrEP or don't do porn."