Nov 15, 2017
Brandon Cody moved from SeanCody to Men
Reading time: 2 minutes
After the 2015 debacle where Brandon kind of bottomed for Tanner (who will be my porn replacement for Tyler Hoechlin until he does some dirty work) was nicely confirmed on his five year anniversary when he properly bottomed for Chase in 2016. For a long time, Brandon was SeanCody's star I would have often sought for in my time of need. But if you ever though Brandon had stopped teasing us with what he has to offer, then the next part will shock you just as much as it had startled me. By opening up the Men.com to throw in a little jack off session, the huge cover displaying Brandon across the entire screen came up. At first, I wasn't sure if I was on the right site, but it said it right there, "MEN Exclusive – Brandon Cody". At the end of July, Brandon left SeanCody, to transfer to Men.com, a partner site to SeanCody, and now he is displayed as Men's exclusive star, one of the selected 13.
Brandon had had 38 scenes shot for SeanCody, and with his arrival at Men he, ironically, added Cody as his last name. Significantly enough, at the same time, Porter, after shooting 27 scenes, also leaves SeanCody, transfers to MEN, bottoms with Colby Keller in "How I Started" scene, making a Men.com debut, adding a first name Jack to his already established brand, Porter. Already in the second half of July, Brandon can be caught drilling the master bottom, another MEN exclusive model, Johnny Rapid. Both men have risen some dust around the transfer, and MEN made sure the transfer is noted lining them up to debut with two of their most popular stars.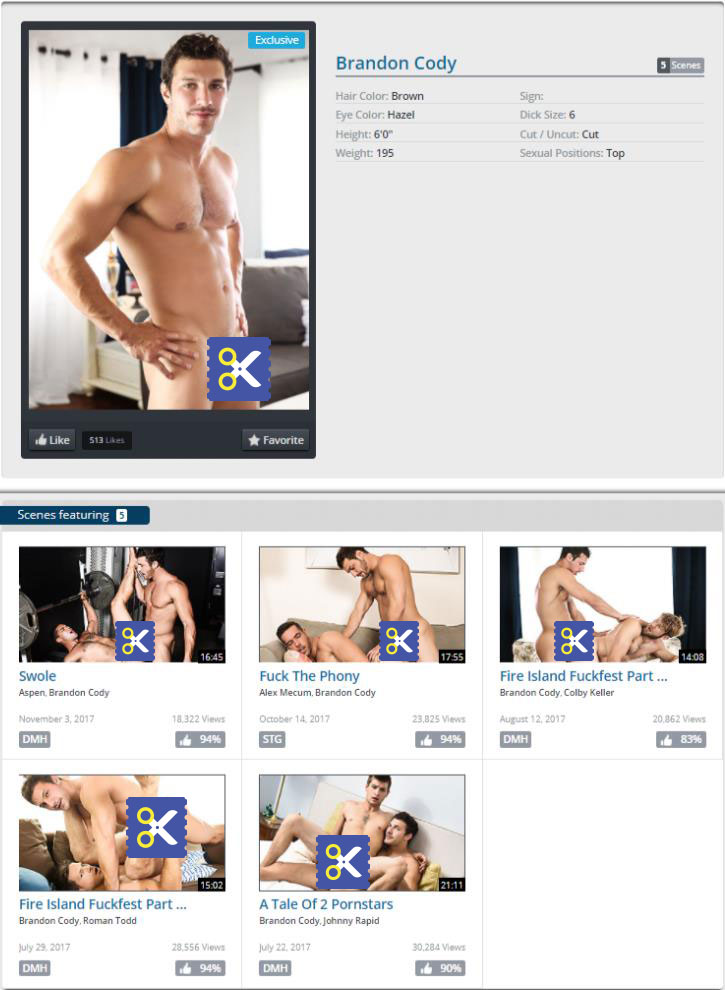 This is a screenshot from Men.com site
In the past few months of activity, Brandon has already lined up five scenes, with only September leaving us without a Brandon dose. Of course, not much has changed, and I will be in anticipation of more Brandon bottoming scenes, but considering the Topher DiMaggio bottoming fail, I don't think Brandon will give us much of his delicious ass on MEN, at least not more than he did on SeanCody.
DISCUSSION: What do you think about B's bottoming future at MEN?