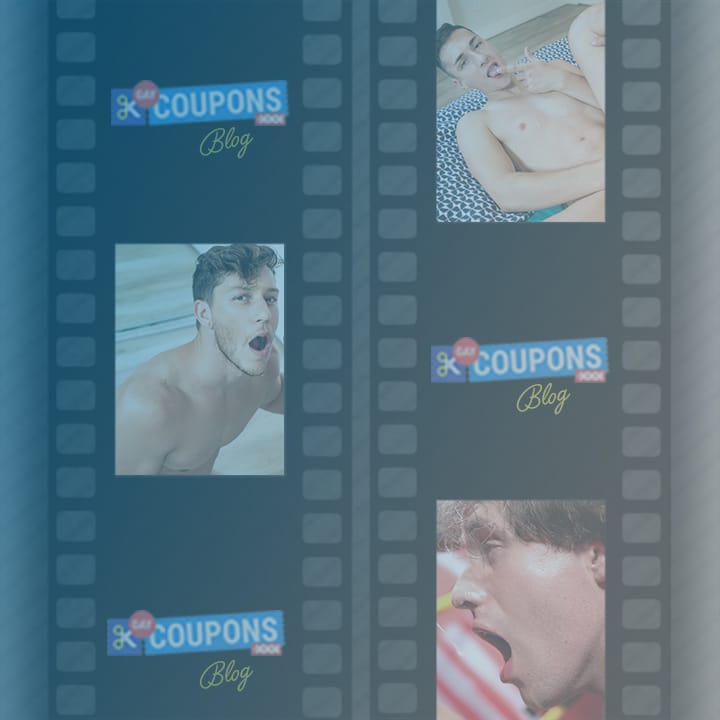 Jan 22, 2020
Everything You Want to Know About Cum Play
Reading time: 4 minutes
The money shot - no modern porn, gay or straight, is complete without it. Rising to popularity in the 1970s and completely taking the adult industry by storm, the cumshot has become the traditional punctation that concludes nearly every porn scene. This is especially true in gay porn.
It has spread throughout pop culture and is even depicted in a handful of more mainstream films and TV shows, such as Girls, Bottom, Age of Consent, and Californication. As porn itself becomes more mainstream, more and more couples (both on-screen and off) are imitating the intimate acts they see depicted in gay porn. Before rushing out and cumming all over your partner's face, you're probably wondering how he might actually feel about such an act.
Consent
Of course, the only way to know for sure is to ask him, and you absolutely should ask him. While it's true that gay men tend to have more sex and be more open to experimentation than their straight counterparts, it is still important to get consent before blowing your load all over your beloved. However, you can rest assured cum fetishes are super common.
Why We Love Cum Play
The reasons for wanting to cum on a partner are obvious to many. Orgasming in and of itself is the primary goal of many sexual encounters for men. However, the sexual experience doesn't always have to end when you orgasm, and cum play can be a huge turn-on for both partners. Seeing your man enjoying your cum can be a huge ego boost, and very powerful experience.
The desire to visibly cum on a partner can often seen as being about dominance and control. Some people find this demeaning. However, as sex coach Dr. Patti Britton points out in a 2011 interview with Miami New Times, it is up to each person (including pornstars) to decide what is acceptable to him.
Moreover, the partner who cums isn't the only one who might be getting a bit of a power trip out of the experience. Control in the bedroom is not a zero-sum game. In an ideal sexual relationship, both partners feel like they have agency and power. The idea that you just made your partner lose control and literally explode with pleasure can be just as empowering as having a partner willing to accept your hot, sticky load.
Where to Cum?
If you and your partner are both interested in trying out a little cum play, the next question you might be asking yourself is where you should cum. There are many factors to consider here, including the logistics of your chosen sex act/position, the comfort levels of both you and your partner, and - of course - sexual safety.
Cumming in or on your partner's asshole is considered the ultimate satisfying experience for many men, but there are inherent risks involved with this. It puts your partner at risk of contracting HIV and other STIs, so if you haven't been tested, this is an absolute no-no. If you have been tested and your partner is cool with it, it can be incredibly gratifying. You could even try out felching (the act of licking or sucking your own cum out of your partner's asshole).
The mouth is another popular place to experiment with cum play. The receiving partner doesn't have to swallow right away (or at all, frankly). Watching him roll your cum across his mouth, prod it with his tongue, swish it around, and generally enjoy it can be a serious turn-on for both parties. He can even pass it back to you via a kiss (a practice known as snowballing). However, again, cumming in someone's mouth can put both parties at risk of HIV and other STIs, so this is extremely dangerous unless you've both been tested and have discussed acceptable risk levels with each other.
The safest option is cum on your partner, rather than in him. You could even choose an area that inspires you sexually in a particular way. The Cut ran an article several years ago called The Complicated Politics of Where to Come. In it, one man suggests "Abs if he has them." The idea is that it's incredibly erotic to cum on something you aesthetically appreciate. If you tell your partner why you've chosen that particular part of him, it might help him feel appreciated and sexy as well.
Need to Ease In?
Whether or not you and your partner are ready to try out this iconic pornstar-inspired act in your own bedroom, there are other ways to enjoy cumshots together. Watching porn with your partner can be an amazing way to energize your sex life. If you're looking for some inspiration, watching porn together is definitely the way to go!
Don't know where to start? Bukkake Boys in a great cum-centric site. If you aren't familiar, Bukkake is a Japanese term where a group of men get together and masturbate in a circle around someone, until they all spill their loads on the central figure. If you're looking for something a little more intimate, PornHub Premium has a near endless archive of the money shot, including some awesome compilation videos.
Don't Be Shy!
There is no reason to be shy about talking to your partner about reenacting this classic pornstar move. Like with all things sexual, nothing beats good communication with your partner, and you'll never know if he's onboard until you ask. However, rest assured that the cumshot is having a moment. The prominent visual display of jizz is increasingly mainstream, and you may be in for some amazing sex if you have the courage to initiate the conversation.