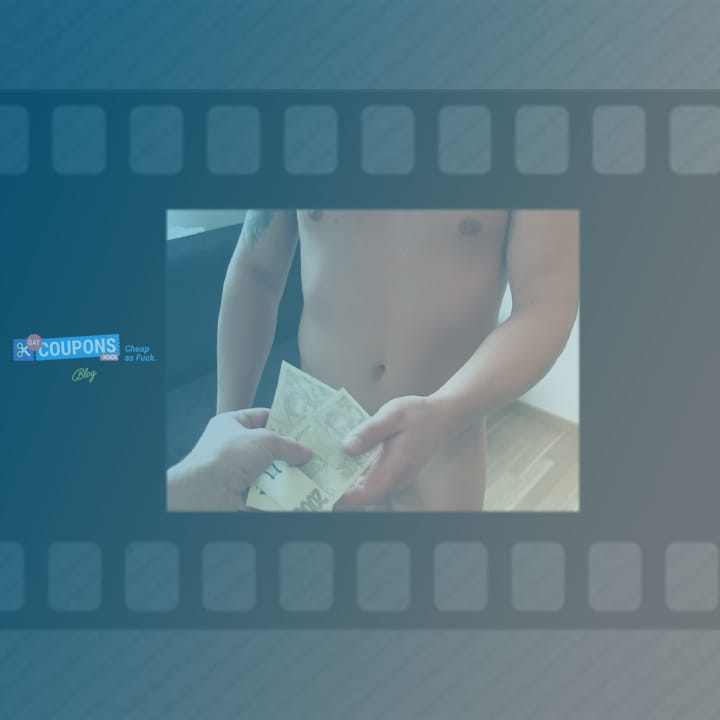 Feb 11, 2020
What's the Deal with Gay for Pay?
Reading time: 3 minutes
Gay for Pay is a pretty straightforward term (so to speak). Chances are, even if you aren't familiar with the term, you get the idea behind what it means immediately upon hearing it. What may not be as immediately obvious are the complicated politics surrounding this term in the adult film industry.
For starters, gay porn featuring purportedly straight actors is wildly popular. In fact, according to PornHub's 2019 Year in Review, "Straight Guys" is actually their most viewed gay porn category. So what's the appeal?
Our egos play a huge role in our sexual fantasies. As unrealistic as the homophobic stereotype of The Gays "turning" straight men is, the idea that we could be with anyone we choose, rather than being limited to the 4% or so who identify as gay, is obviously powerful. Pornographic scenarios that portray straight men being lured into homosexual rendezvous tap into this private desire.
However, when we talk about "Gay-For-Pay" in the adult industry, we aren't just talking about fantasies or a popular pornographic niche. The industry is full of real-life actors, many of whom identify as straight, but make gay porn because it pays men better than straight porn.
In a February 2018 article, the Advocate asks the question, is Gay for Pay a detriment to the LGBT community? The article was written shortly after the release of Julia Himberg's popular book, The New Gay for Pay: The Sexual Politics of American Television Production. Neither the book nor the article is focused specifically on the adult industry, but much of what they cover applies broadly across the entire entertainment industry, including adult entertainment.
One of the big questions addressed here is, is it ethical for gay roles to go primarily to straight men? Himberg argues that, while obviously there is a balance to be struck which includes authentic representation of the LGBT community BY the LGBT community, overall seeing straight men in gay roles normalizes homosexuality. In a world where "gay" is still used as an insult and many straight men still feel compelled to perform visible disgust when confronted with the idea of gay sex, seeing straight men in sexual or romantic scenarios can be liberating.
While mainstream television may be more capable of influencing public opinion than porn, specifically, television actors only need to carry the illusion so far. Gay sex in porn is very real, regardless of how the actors identify. How does that make straight actors feel?
A British documentary released back in October explores this very topic. The Sex Business: Swinging Both Ways takes a look at the life and career of former military man, Daniel McGraffin. He describes his difficulty finding a decent job after his service until he learned he could make £1,000 a day making gay porn. When asked why he didn't try straight porn, he said he looked into it. However, there was too much competition and not enough money to make it worth his while.
With the full support of his girlfriend, McGaffin became one of the countless straight men to launch a career in gay porn. She doesn't mind, because while the sex may be real, everything that matters is completely fake. She says she's more comfortable with him working in gay porn since she doesn't have to worry about him being attracted to his costars. While many of their friends insist he must be at least a little bit gay, he insists that it's all just an act. He says that knowing the "tricks of the trade" allows him to appear natural and at ease onscreen, despite being "100% straight."
When asked about whether or not he considers himself an ally, he says he isn't really sure, but that his brother is openly gay. He reiterates that his career choices have less to do with his personal feelings, and more to do with his options. Having been discharged from the military for going AWOL after suffering a mental break, and even spending time in a military prison, he feels like gay porn is the best career choice available to him.
Markus Kage is another popular gay-for-pay performer. Kage has a different perspective on doing this kind of porn work. He claims that it has made him a better person, and a better lover. It has taught him to be more flexible, to control his fears, and lean into the intimacy of sex, rather than staying locked in his own headspace.
Not all gay-for-pay pornstars start their careers in gay porn. Some men often called "crossover performers" make the move to gay porn hoping for a career boost. Lance Hart is one such performer. His career has blown up since making the move to gay porn.
However, transitioning to gay porn isn't without its risks. Even in the porn industry, gay porn faces a huge stigma. Fear of HIV and arguably homophobia, in general, make it very difficult to get hired for straight porn gigs once an actor has dabbled in gay porn. For most, going gay for pay is a one-way street.
So what do you think of Gay for Pay Porn? Do you enjoy watching it as a genre? What do you think of gay for pay actors? Let us know in the comments!