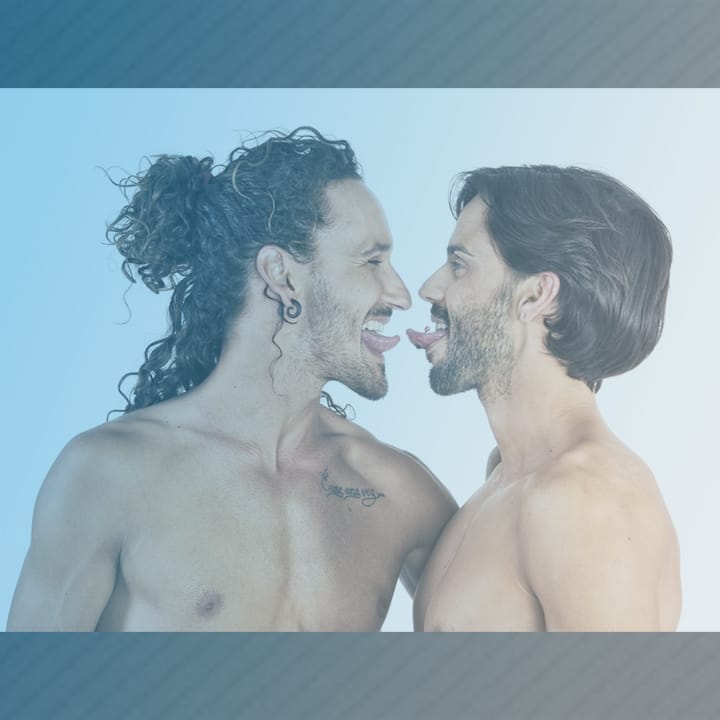 Nov 17, 2020
Gay Porn Gets Creative During the COVID19 Crisis
Reading time: 4.5 minutes
Nearly every industry across the planet has been affected in one way or another by the COVID19 pandemic, and the economic shutdowns imposed in much of the world to help mitigate its spread. For the porn industry, it's been something of a mixed bag. Sales are up, and so is viewership in general, but production has been shut down.
Plus Magazine released an article on June 26th called Gay Porn Gets Creative Under COVID, With Lessons Learned From HIV. It details many of the obstacles and opportunities faced by the porn industry during this unique time. It included a number of interviews with industry leaders, such as Alison Boden, CEO of Kink.com.
"We're lucky to be in a business that people seek out in times like this," Boden told Plus. "Unfortunately, production is hugely impacted and will be for some time. But, our sales have had a slight improvement. Folks are home and there are only so many things you can do. You can bake bread, you can watch Netflix, you can masturbate…"
However, people desire new content. The industry is running out of material shot before mid-March, when the porn industry's trade association, the Free Speech Coalition (FSC), called for an industry-wide production hold on new scenes, except solo shoots or partners living in the same household. Most studios expect to run out of new content within the next week or two.
The call to suspend production came after California shut down all non-essential businesses in the state, where much of the world's porn is film. While many would call porn a vital public service, especially for people stuck at home, the government disagrees. The federal government even went so far as to specifically exclude any businesses of a "prurient sexual nature" from receiving aid related to the government imposed shutdowns.
Consumers, however, have clearly spoken about the importance of porn at this time. "Porn falls into this weird place between necessity and luxury," FSC media spokesman Mike Stabile told Plus. "Not only are we in a public health crisis, but we're also in the middle of a financial crisis. You see a lot of traffic to free sites like Pornhub and xHamster because they are free." However, in spite of the economic hardships people are facing, paid porn subscriptions have also enjoyed a moderate increase since March. Stabile explains, "Purchasing a porn subscription, even if only for a few months or so, is a small amount to spend to entertain yourself. Especially during lockdown when you're not going out to a bar, you're not taking someone out to dinner, you're not renting a hotel room. In terms of return on investment, sexually, it's a small amount of money."
Sales of sex toys have also increased. Stabile says they have gone up by 30-50 percent since the US started implementing lockdown orders in March. "I spoke with a rep from one company with a large gay male customer base who said his company's daily sales during the shutdown were twice as high as they had been during their biggest sales day last year, which was Black Friday," Stabile elaborates. "Initially, the sales were fairly basic — lower cost items, dildos and vibrators. However, they saw a surge in higher-priced items like advanced BDSM equipment with the arrival of the stimulus checks."
Not wanting to miss out on the opportunities, the FSC formed a special COVID-19 taskforce back in April. The task force, made up of performers, producers, workplace safety attorneys, infectious disease specialists, and an industrial hygienist and others, were brought together to develop guidelines for the safe reopening of productions. This isn't the first time the FSC has dealt with a health crisis. Though it was founded in 1991 to fight censorship, the FSC was largely responsible for establishing the protocols used in the adult industry today to halt the spread of HIV and other STIs.
The organization implemented a nationwide network of testing sites called the Performer Availability Screening System, known as PASS, which tracks and monitors the test results taken by performers every 14 days. PASS isn't without its drawbacks. Some believe it helped legitimize pre-existing homophobia and stigmatization of bisexual cross-over performers, preventing men who've performed in gay porn from ever doing straight porn. However, the system is widely praised for its effectiveness in preventing the spread of STIs in the porn industry.
Many in the mainstream Hollywood news industry have taken note of the pass system and wondered if they could implement a similar method to resume filming during the pandemic. A recent Stat News article even suggested that it could potentially provide a blueprint for reopening the entire economy - with people being allowed to attend events or fly on airplanes if they are tested regularly.
There are many concerns and pitfalls to such a plan. Stabile explains that one of the biggest is that COVID19 is much more complicated to contain, saying "With an STI, you have limited points of contact where it can be transmitted. With COVID, it's not just the person you're performing with, it's also the crew, the caterer, or the person whose house you're renting." Though he's quick to point out that discussions on health and safety "come naturally" to the adult film industry and that this is an opportunity to lead other industries by example.
"I think the things we're discussing for our sets go far beyond anything they've ever thought about," Stabile continues. "We're almost like a graduate course in set safety. A lot of mainstream sets have never had to think about some of these issues before."
After nearly two months of discussion and research, the FSC has released its "Preliminary Health and Safety Guidelines for Adult Film Production." The 32-page document provides numerous suggestions for how to resume shooting while mitigating risk. These protocols include mask-wearing, cleaning and disinfecting, social distancing, personal hygiene, and frequent testing for all on-set personnel. The industry consensus is that production can resume in jurisdictions where mainstream film production is once again being allowed.
Additionally, individual companies and producers will be providing their own safety plans addressing COVID-19 concerns for all involved with each shoot. Boden says that Kink crew members are already wearing gloves on set and will increase the use of PPE to include eye protection and face masks "if a scene were expected to have bodily fluids may be flying around."
However, the FSC admits that there are still significant risks involved with resuming production. This is made worse because the porn industry is primarily concentrated in areas that are still experiencing rising infection rates - namely Los Angeles, Las Vegas and Southern Florida. The safest way to create content is to limit the number of cast and crew as much as possible. Solo content, or scenes between couples who live together being the safest, and group scenes and gang bangs presenting special challenges.
"Production is going to proceed gingerly," Stabile says. He points to one production company that, for the time being, is going to shoot everything outdoors using drones, with the director behind plexiglass. Boden has already experimented with directing scenes for Kink via video conference.
Different studios will, no doubt, vary somewhat in their production strategies going forward. However, with consumer demand at an all-time high, we have no doubt that the porn industry will find a way to move forward. Previous experience with the AIDS epidemic should help us do so as safely as possible.