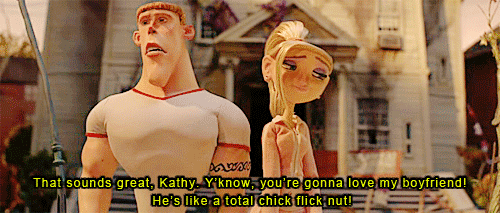 Dec 14, 2017
LGBTQ+ characters in mainstream TV shows
Reading time: 2 min 30 sec
It has been quite some time now that LGBTQ characters are appearing in mainstream media, and it looks like the trend is ever growing. Boy am I glad it is becoming this beautiful normative. Imagine guys, 200 years ago men didn't even imagine ever traveling that fast, and when you think about the past 20 centuries, the technology we use today is merely 5% of that period. Idiotic thinking that within the next two millennia the Earth will perish is only limited by what is observable right now. In another 200 years the world, the technology will evolve and place another normative where your gender and sexual orientation will not be an object to discrimination, or discussion at all. We will be that uncivilized society the 200 years in the past world was to us today. These tiny steps of including LGBTQ characters in the new character normative will be of great significance in the future.
1. Teen Wolf
MTV's Teen Wolf was one of the first ones to introduce several gay characters in their main setting. We loved the Carver twins, both straight and gay one, and we loved, even more, the face the gay one came back with Jackson for the season finale. Jackson was played by Colton Haynes, who left the show before he came out, and just like the sexy twin, he came back for the season finale, actually, both came as a couple. I bet no one expected that one! Aside from that, Ethan had previously dated Danny, and of course, the main characters who never were much intimate in front of the screen, Mason, and Corey.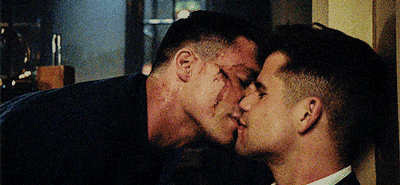 2. Supergirl
Supergirl has brought on us a lot of emotions these past few weeks, but this strong female character oriented TV show featured Alex's burden of coming out, to herself and the world, beautiful, but in the end, heartbreaking love between Maggie and Alex. As I still weep tears weeks after the wedding is off, Alex has already had her rebound, with none other than DC Legend of Tomorrow, Sara Lance. In the crossover episode, there is an appearance by Russel Tovey, whose gay character is dating Leonard Snart from Earth X. that's a twist I have been waiting to happen, since Wentworth Miller has been out since Prison Break, and even refused to appear in Russia due to their homophobic laws.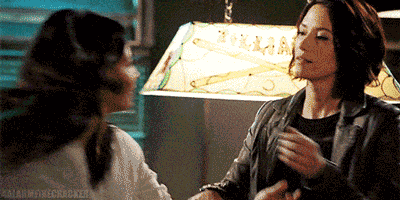 3. Arrow/DC Legends
In the previous seasons, after Sara Lance first appeared alive, she comes out, driven by the arrival of her ex, Nyssa Al Ghul, the assassin that assassinated her heart. Sara is a badass assassin who died, came back, and became the leader of Legends, which also enabled her to have her way with the queen of England. In the latest arrowverse crossover, Crisis on Earth X, all four shows gather their characters united into the celebration of a wedding between Barry, the Flash, Allen, and Iris West, his sister not sister. Since we have mentioned the Flash, Barry's captain in one of the previous season was gay, but he had no significant role, though as hot as he was, I wish we could see him more. Arrow also featured a brief end of the marriage between Mr. Terrific and his better half. In the next few episodes, I am waiting for ridiculously hot Renee to explore his sexuality a bit furthermore and give us something to fantasize about.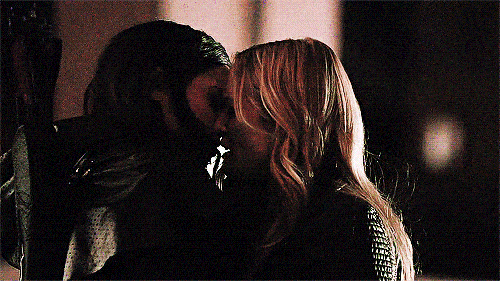 4. Sense8
Wow wow wow! Where do I even begin with this one? Not only do they feature a gay male character who is in the showbusiness through his coming out story, but they also feature a transgender model, who also happens to have a gorgeous girlfriend. So Lito is banging Alfonso Herrera, and I must say he was my crush when I was a kid and Rebelde was a thing, and now seeing him switch from the role of a priest in Exorcist to role of a gay college professor. Nomi and Amanita are the cutest couples after those two. Sorry, I am biased that way, but to be fair I will include adorable gifs for both of those.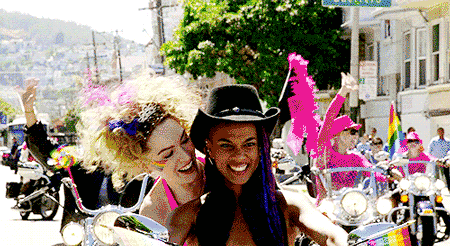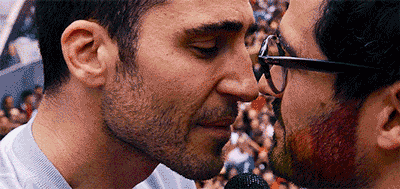 5. The 100
The 100 started out like any other futuristic fiction that depicts a world destroyed by men. Each season the show becomes darker, but one thing remains for sure, Lexa should not have died. Clarke and Lexa were so good together, both as a couple as well as leaders of their people. That brutal combination was the winning ticket for this TV show, but we hope Clarke finds happiness once more.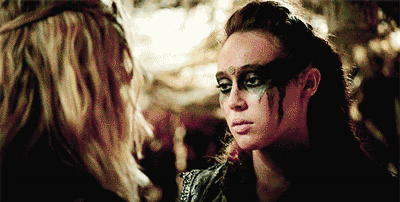 6. How to Get Away with Murder
Anna Mae has been a strong woman, just as Shonda always tends to create them, and as such her character has been an inspiration to various life problem solutions. She is brutal, vigorous, but yet tender and loving. Her darkened heart has more love to give than a man can fit inside. Hew brief moments of lipstick pleasure brought on so much power to the character itself.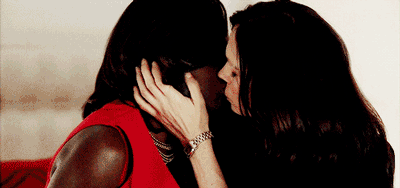 But we definitely should not forget the cutest gay couple ever to be on TV, Ollie, and Connor, who have had their ups and downs, but through all, they always stick together. Now that's true love.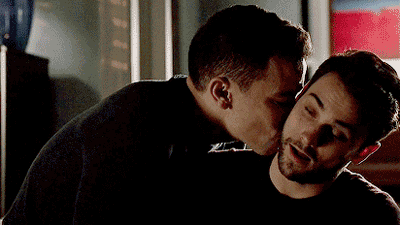 7. Orange Is the New Black
Sophia has been without a doubt one of the most famous, one of the most respected, beloved and inspirational transgender characters to ever appear on TV. I am pointing her out because Laverne Cox has not only significantly changed the public presentation of a transgender persona but created a movement becoming a respected actress with a lot of talent to throw around. Aside from her, this TV show has been overcrowded with lesbians, bisexuals, pansexuals and anything else the prison environment creates out of a woman.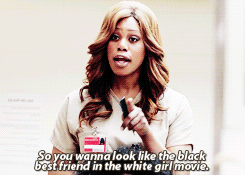 8. Broad City
Out of all the shows on this list, this one has been my latest discovery, and I must say this show is above and beyond. I would give good money (which I don't actually have) to hang out with these girls for just a day, I mean honestly, their adventures, the way New York is portrayed through their show, all the way to guest starring Ru' as Illana's boss. This show is on the list because of none other but sexually fluid Illana, the iconic queen of cheap leisure. Illana truly knows how to enjoy her life, and following this show you might get a few unrealistic tips, that might or might not work. Aside from the main character, Illana's roommate, Jaime Castro is a definite cream on top of any cake, he is so adorable I would like for him to be my pet.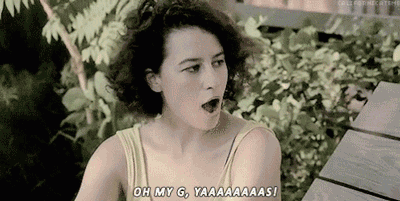 9. Scandal
Another Shonda show on the list, but this one actually put the gay character directly inside the White House, what an abomination (laughs discretely). Cyrus has been through a lot, and even though he is a real ass of a man, I really feel for him for losing his husband in such a manner. He did give it a shot with a prostitute later on, which ended up being even greater blam than the previous affair. Overall, Cyrus might not be fan beloved persona, but with his character's status and position, to be featured as a gay character, it is a big deal for the new and reformed gender normative in the world.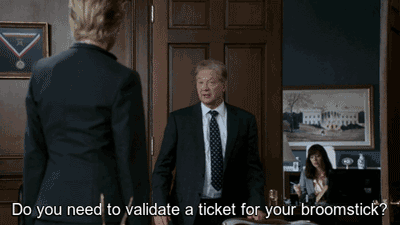 10. The Magicians
Those of us who follow this show, already know the explicit and perverted nature of it, but the real jewel of the show is Elliot, who is managing his straight marriage and his sexuality for the sake of the world. Eliott has all of the elements you need of a gay king, he has class, he has the attitude, and always know how to punch a scene-stealing line. Eliott is the jewel of the show.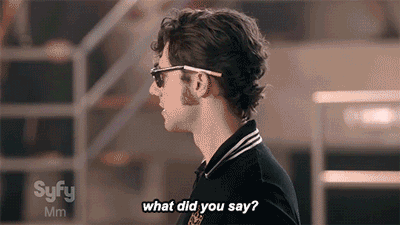 11. Unbreakable Kimmy Schmidt
This show has been one of a kind since the moment it came out. Just like Titus Andromedon, my favorite Titus scene is at the ATM when he goes to pick up the last coins off of his account and ends up with minus one dollar because of the transaction fee. Hilarious, entertaining and possibly the brightest and most fabulous part of the show.
12. Orphan Black
One of the main clones that the act is revolving around is Cosima, cute but brilliant scientist, whose sexuality is overshadowed by her toughness, strength and drive to help, protect and love. Her heart is bigger than the universe, on one hand, you can say she is one of a kind, but on the other, that is literally not the truth. Another clone appeared on the show, though briefly, as a transgender version of the girls. I love their diversity and the accent on how the people are not defined by their first two cells, all girls were made the same, and yet each and every one of them grew to be her own person.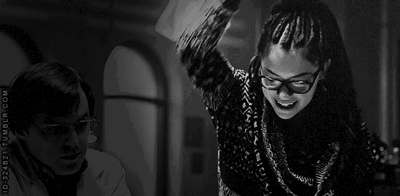 13. The Fosters
The show that simply must be on this list, two women, one the vice principal of a high school and the other is a cop made detective. They live in a big house, that turns out to be too small for them and five of their children, some of which are adaptive, some biological. They constantly remind us that no matter how hard the times are, the important thing is to stick together. They reshaped and redefined what family really is, and it is those people who make your life better, friends, mothers, fathers, step-siblings…Aside from mothers, children test out their sexuality and explore what the world has to offer.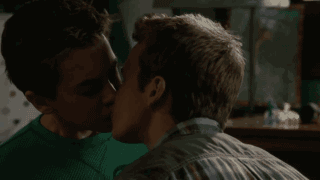 14. Pretty Little Liars
This pretty little liar definitely has poor taste in women, which does not mean she was restricted from growing into a strong and confident young women, whose sexuality has never been the main aspect of life, aside from a brief breeze in the first season, but so much has happened after, like who is A and he is A and she is A and everyone is A and honestly I thought just about everyone except them is A, and even started thinking they did it all to each other this whole time. But the show did wait for its end and everything has been cleared, tho still a little bit foggy in my head.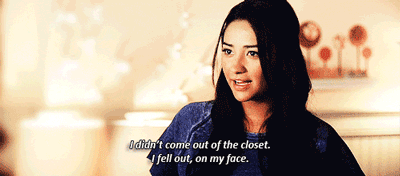 15. Shadowhunters
Isn't it great that straight guys have Alexandra and we have Matthew Daddario to spaz over? The Daddario siblings are insanely hot, and Matt has been taking over the Shadowhunters with his adorable relationship with Magnus. He came out at what was supposed to be his wedding after Magnus crashed it. I love the whole strangely traditional family thing involved, makes the whole scene so much more empathic.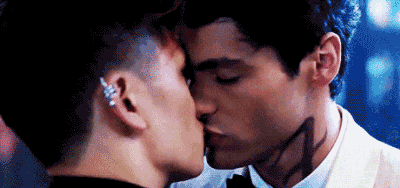 DISCUSSION: Which TV series with LGBT characters are you currently watching and why? Comment below: