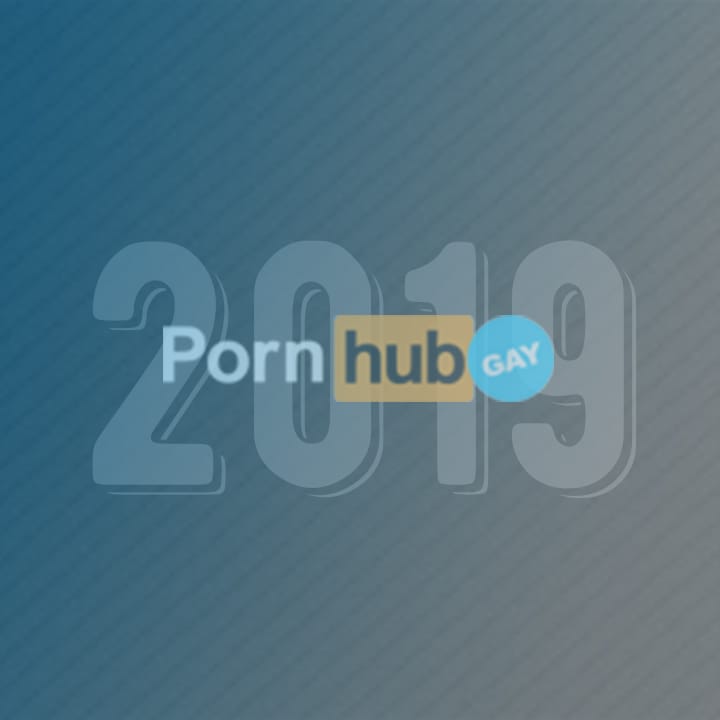 Jan 16, 2020
PornHub 2019 Year In Review: Gay Porn Trends
Reading time: 4 minutes
When PornHub launched in May of 2007, they radically changed how people get their porn. Their innovations in the industry didn't stop on the consumer end, either. By collecting, analyzing, and publically releasing data on people's porn habits (anonymously, of course) they have helped drive market trends for adult entertainment in a way that was totally unprecedented 20 years ago. They only began compiling data on their gay site in 2017, but better late than never, I suppose.
While the available analytics on their gay site are somewhat minimal compared to its straight counterpart, the information they collect is still incredibly valuable to those making gay porn. As consumers, you can expect the data they collect to have a serious impact on what porn gets made in the next year. You can find pornhub's full report here, though you'll have to wade through dozens of pages of analysis on their straight site. Since we at Coupons love to track what is driving trends in the world of gay porn and who are the gay guys responsible, we've created this condensed, LGBT specific version of the PornHub report, offering highlights (and our own analysis) as it pertains specifically to our gay readers.
So, without further ado, here is what PornHub found.
Most Searched for Gay Porn Terms of 2019:
Korean

Japanese

Black

Daddy

Straight

Asian

Twink

Massage

Hentai

Cartoon

Gangbang

Femboy

BBC

Public

Threesome
There have been some interesting changes to this list since PornHub's 2018 Year in Review. For example, searches for gay hentai have shot up dramatically. The term has gained 5 positions since last year, placing it in the top 10 for the very first time.
Other searches that saw significant growth on the gay site include 'transgender' by 121%, 'furry' by 71%, and 'dominant' by 58%. "Femboy" searches increased by 99%, making it number 12 on this year's list, whereas it did not appear on the 2018 list at all.
Most Viewed Gay Porn Categories
Straight Guys

Daddy

Bareback

Black

Big Dick

Twink

Rough Sex

Cartoon

Group

Japanese
Some changes to note when comparing this year's list to last years are that 'Daddy' and 'Bareback' both moved up 2 spots, knocking 'Black' into position as the 4th most viewed category. 'Twink' has also moved up one position, trading places with 'Rough Sex'.
Most Searched for Gay Pornstars
Zilv Gudel

William Seed

Austin Wolf

Joey Mills

Rocco Steele

Armond Rizzo

Diego Sans

Colby Keller

Johnny Rapid

Rafael Alencar
Zilv Gudel and Rafael Alencar are newcomers to the list, pushing Griffin Barrows (last year's #6 guy) and Paddy O'Brian (#10 in 2018) off of the list. In fact, Zilv Gudel, the 25-year-old bisexual Essex, has meteored straight to the top of the list! Austin Wolf and Joey Mills have also moved up in the ranking (Austin has climbed from 4th to 3rd, and Mills lept from the 8th to the 4th position).
PornHub, sadly, didn't have as many specific details for those enjoying its gay site as the straight site. It did not compare gay porn viewing habits across the globe, break consumers down by age demographics, how long people watch gay porn or go into much detail about when viewing gay porn is most popular. It's a pity, as it would be fun to compare gay porn viewers to their straight counterparts.
They did, however, remind readers of the huge spike in Gay Porn viewing they experienced during Pride Month. Their initial report on their Gay Pride traffic had some interesting statistical analysis, which we covered back in summer.
Other Colors in the LGBT Rainbow
It is unsurprising that the bulk of PornHub's Analysis was focused on its straight site, since straight men are still the biggest demographic for PornHub. It is equally unsurprising that it's PornHub Pride section was almost entirely focused on gay men (for similar reasons). However, there was some data buried in the report regarding other members of the LGBT community.
Lesbian and Bisexual Women
One fact that stood out as particularly interesting to me, is that searches for "lesbian" porn were far more popular among women than men. While it's entirely possible that many of these women seeking lesbian porn actually identify as "straight" and are simply seeking porn without men. Perhaps it feels less exploitative to some straight women, or they just aesthetically aren't that into penises.
However, it's also pretty fair to speculate that a decent number of these women are either lesbians, bisexual, or - at the very least - heteroflexible. In other words, if you're searching for lesbian porn, I'd say there is a very good chance that you are at least incidentally attracted to women. Given that there is at least some evidence that most women are very flexible when it comes to visual stimulation, this shouldn't be especially surprising. That said, as a bisexual woman myself, I've gotten so used to having my relationships with women fetishized by (often homophobic) straight men, I found this statistic oddly encouraging.
Transgender
As mentioned above, searches for trans porn are up on its gay site. It doesn't specify whether these searches are for trans men or trans women, but trans women are certainly more prevalent in porn than trans men. It is also impossible to know the sexual orientation of the people searching PornHub Gay for trans women, as not everyone who uses the site identifies as a gay man (it's actually quite popular among straight women, for one thing). Without more details, it's difficult to infer much meaning from the increasing popularity of this search term.
Perhaps more interesting, is that searches for trans porn are up on the straight site in several countries around the world. Italy's searches for "trans" have increased over 50% since last year. This is nothing, compared to Argentina, where searches for "trans" porn jumped by a stunning 474% since last year. Viewers in Argentina were 82% more likely to view "transgender" porn than their peers in other countries. Brazil actually watches the most "transgender" porn, and are 98% more likely to watch that category than the global average. "Trans Male" porn is most popular in Mexico, where it is 72% more popular than the global average.
Conclusion
We hope you enjoyed our analysis of PornHub's 2019 Year in Review and how it pertains to the LGBT community. Be sure to keep an eye here out for our future blog posts featuring the latest gay porn trends, hot deals, and LGBT news. We've hired some brand new writers for 2020 and look forward to bringing you more diverse voices from the community.