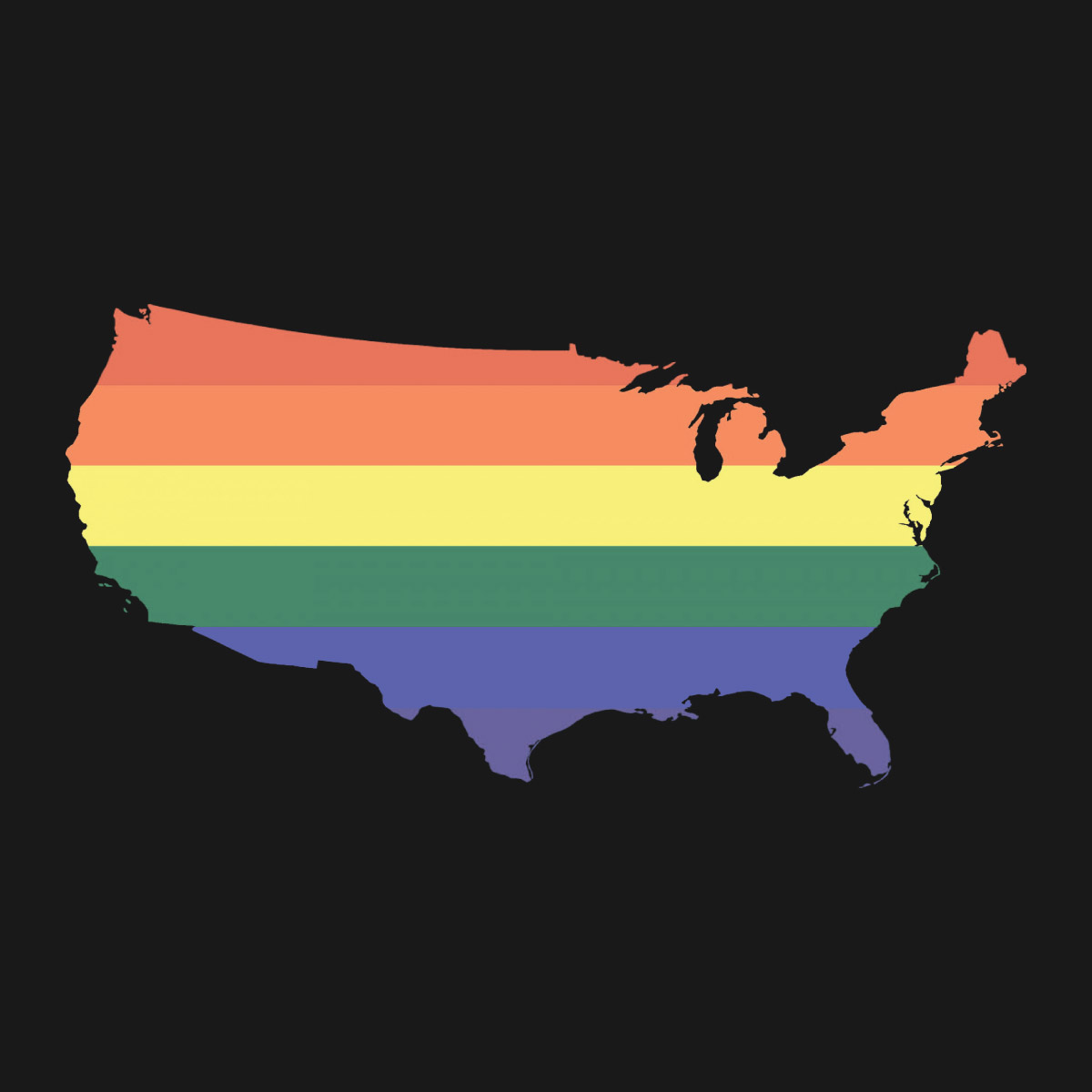 Oct 30, 2017
PornHub Shares Statistics for PornHub/Gay for the First Time!
Reading time: 2 minutes
PornHub as the biggest existing porn site that counts 23 billion unique users yearly. Or 64 million unique users a day. Or 729 unique users each second. Looks like the best place to get some useful information about usage and habits of watching porn around the world. First Porn Hub gay insights are here!
For a few years now, PornHub has been ignoring their gay visitors. Only a few years back they remembered to divide their annoying ads to straight and gay viewers so that users like you and me don't need to see those inappropriate boner killing ads showing huge tits and wracked pussies. They finally realize they have a lot of "gay traffic" they could monetize and turn into profit.
On May 2016. they introduce their first "gay" insights showing what is popular to their gay visitors, what are the top gay porn categories and who are the most searched pornstars. Unfortunately, they shared only stats for the United States. But, let's not be ungrateful! Rather hope to see more of those insights for other countries in the future.
Let's dig in and see what interesting info can we find in their insights. Here is a map of most viewed gay categories in each US state compared to other states: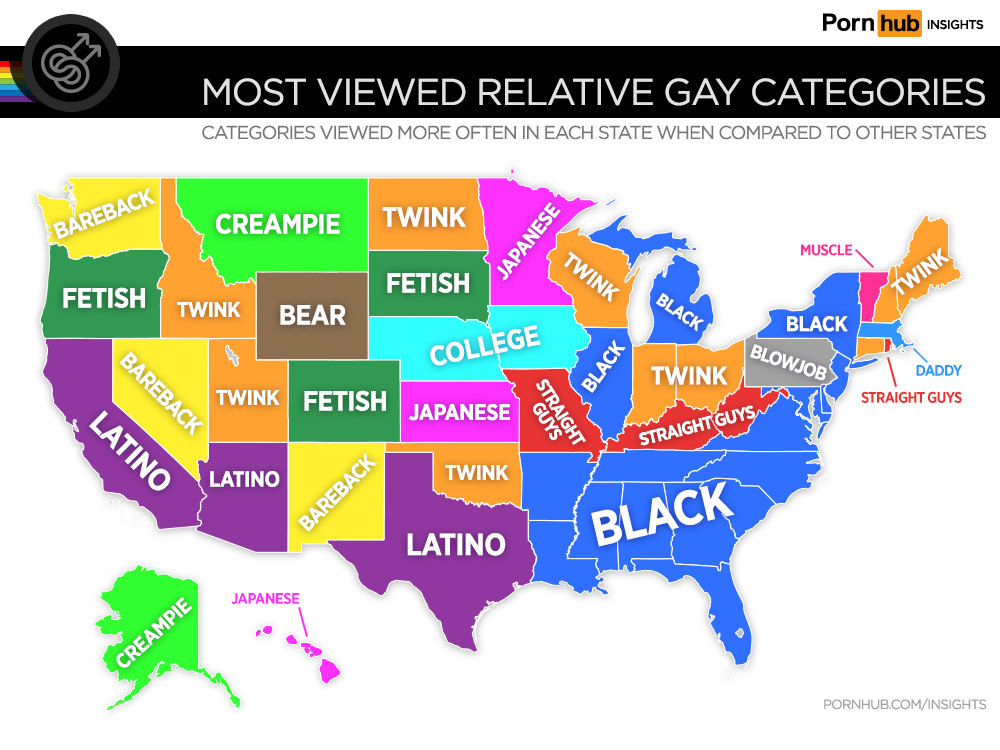 Most viewed relative gay categories in the US on PornHub.com/gay Source: Pornhub.com/insights
If you know someone who is black and straight, now is the right time for him to start a career for himself in the gay adult industry. According to most viewed PornHub categories, "Black" is on the top followed by "Straight Guys" and "Bareback". Big surprise (to me) was to see "Twink" in seventh place instead up higher. But that's just one gay geek commenting on gathered data from a few billion visitors.
But again, let's view this data with a grain of salt since if you have ever been to the gay section of PornHub, you should know that when you hover to Categories, you will see just a few "selected" categories instead of the full list. So it's easy to get the wrong idea about what's popular. Would be more interesting to see top search queries... but again, let's not be ungrateful!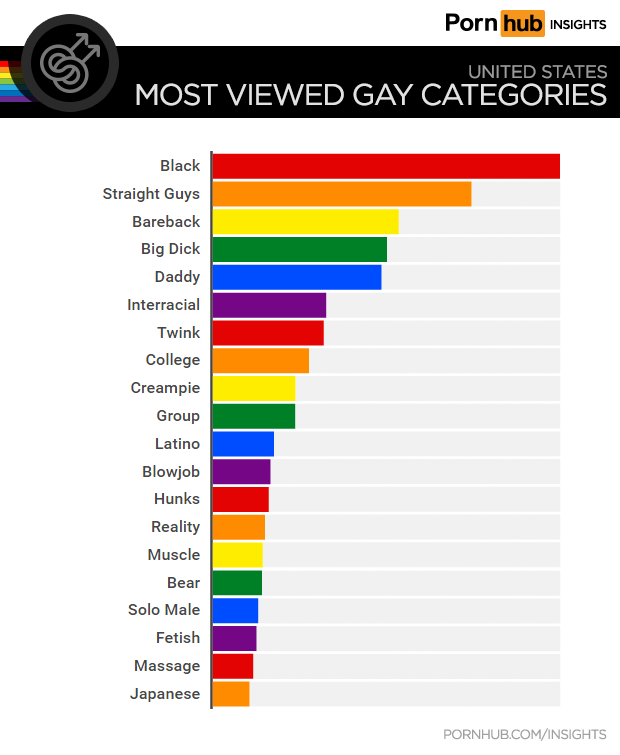 Most viewed gay categories in the US on PornHub.com/gay Source: Pornhub.com/insights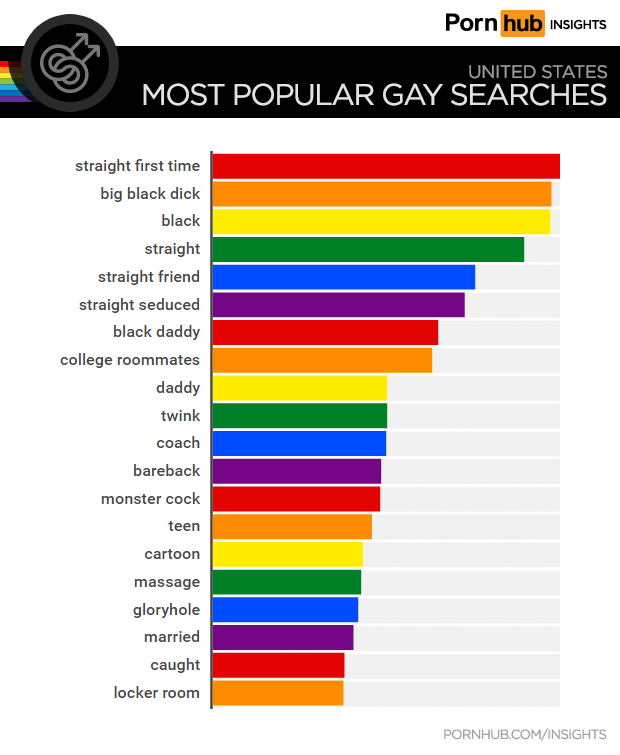 Most popular gay searches in the US on PornHub.com/gay Source: Pornhub.com/insights
Here are the Most popular gay searches in the US. "Straight first time" and "Big Black Dick" followed by "Black" really is the most popular search terms. Let's wait and see if studios will follow these insights to offer more videos that fit these results.
Looks like there are no surprises, after all, when it comes to top gay search. Straight guys are still trending in gay porn the same way "Lesbian" is the most popular straight porn category for the past few years. Looks like there is no more need for dividing those two. It's all scrambled after all. We should just call it "Porn". :P
Next info that I was really eager to see is The most popular gay porn star on PornHub. Men.com's exclusive Johnny Rapid took the first place. I really see him as "Justin Bieber of gay porn". There are so many haters writing shit about him, but still, he is on the top of the ga(y)me. Second place goes to Falcon's Rocco Steele followed by CockyBoy's Jake Bass.
I am sure that as a gay porn lover, you know many names from this list since all of them are well-known porn stars with quite an impressive reputation and fanbase. To name just a few of them: Antonio Biaggi, Zeb Atlas, Austin Wilde, Colby Keller, Diego Sans, Adam Killian, Chris Crocker, Brent Everett, Topher Dimaggio and monster cock top Rafael Alencar. Check out the infographic below: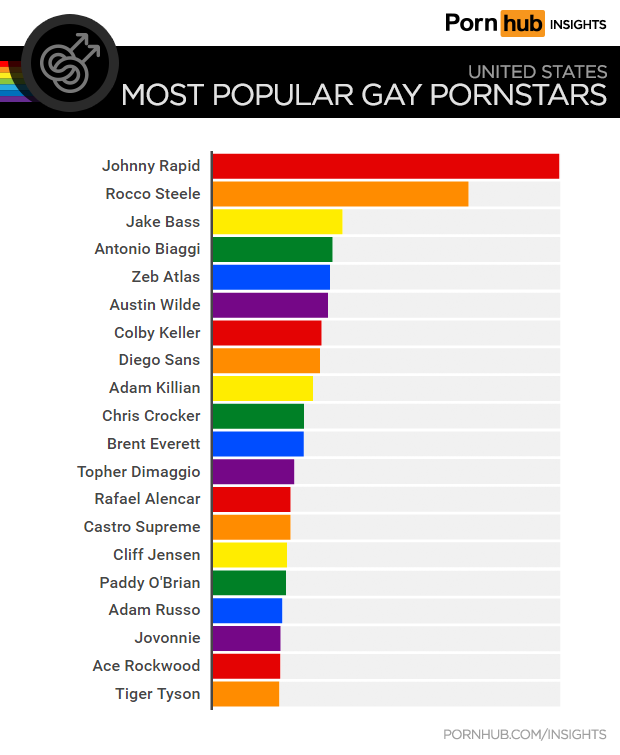 Most popular gay pornstars in the US on PornHub.com/gay Source: Pornhub.com/insights
If you prefer photos over boring data tables and infographics, maybe you should check out our gallery of Top 20 Hottest Gay Pornstars.
DISCUSSION: Who is your favorites pornstar? Do you agree with this list?