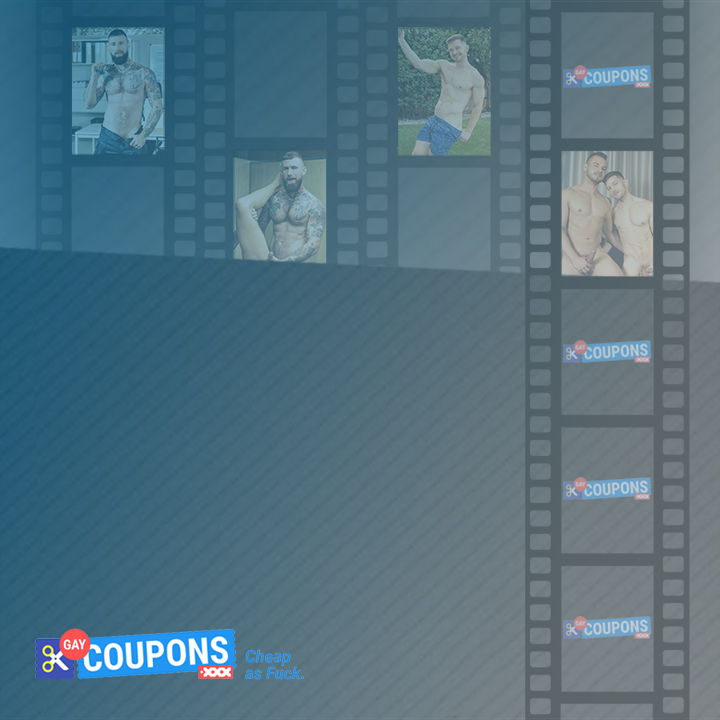 Feb 23, 2019
Top Gay Porn Trends of 2018
Reading time: 3.5 minutes
We at Coupons.XXX is always looking at the hottest porn trends out there, in order to bring you the freshest, latest, sexiest porn on the web. The beginning of the year is a traditional time of reflection - a perfect time to examine 2018's biggest and best trends in gay porn. Sadly there are fewer analytic tools for tracking gay porn trends than their straight counterparts. PornHub, one of the biggest names in porn, is also known for collecting massive amounts of the date on its users, however, they only began tracking trends in gay porn in 2016. Thanks to their (admittedly limited data), our own archives, and a bit of analysis of what's being made, we've been able to Sherlock together what we think some of the biggest trends are for 2018.
6) Gay Porn
Gay porn is - in and of itself - a trend. According to PornHub, searches for gay male content rose 45% between 2012-2016 in the US and now accounts for over 40% of PornHub's 60 million daily users. This is remarkable, considering that less than 5% of the US identify themselves as LGBT - which, obviously includes lesbians and other sexual identities that are likely less interested in watching gay porn. The obvious conclusion is that gay men are really big on porn. Either that or there are millions of so-called "straight" men watching gay porn.
Despite the popularity of gay porn searches, only about 3% of users enter PornHub specifically from their specifically gay site. The rest of the gay porn searches take place from within their regular site, aimed at straight men. Hmm… maybe there are a ton of newly bi-curious porn viewers…
Another fun fact about gay porn searches - they are considerably more popular in the notoriously conservative American South than in more traditionally progressive places like Oregon. Go figure.
5) Geography Matters
Speaking of the American South, they are driving one of the biggest trends in gay porn - big ol' black cocks. It turns out Southern's just can't get enough of 'em. Ebony related search terms are by far the most popular in gay porn for the entire South East.
Folks in the North and West, on the other hand, seem to be more into straight guys, with "straight" topping the list of search terms for over half of the United States.
If you break it down by individual states, you see more diversity in search term popularity. Montana, for example, seems to have a bit of a creampie fetish. Wyoming is rather amusingly fond of bears, California, Arizona, and Texas are all into Latinos, and Colorado is searching for Japanese men. The entire Southeast is still mostly searching for black cock, even when you break it down by individual state. Massachusetts' most popular search term and one that is on the rise elsewhere is "daddy".
4) Incest Porn
Incest porn is having a moment. Incest is huge in both gay and straight porn searches this year. Well, ok technically speaking it's more like "fauxcest" because the relationships portrayed are almost all "step" family - stepdads and stepbrothers, etc. In fact, there are some legal issues in a number of states in seeming to portray actual incest in porn (even if the actors are not related in real life) so legal department encourages screenwriters to work in workarounds.
One subgenre in which the incest trend ditches the so-called "faucest" pretense is twincest. These are porn scenes starring real-life twins, like Elijah and Milo Peters. They are so popular, that their addition to Czech studio, Bel Ami, doubled the site's web traffic. The Peters brothers are notable, not only for their popularity but because of their relationship. In an interview, the pair described themselves as "boyfriends," adding, "He is my life's blood, and he is my only love." They are also willing to engage in any sex act with each other, on camera and yes, that includes anal.
Gay twincest is even more taboo than it's straight (kissing) cousin. In the clique straight twin fantasy, a guy inserts himself between a pair of twin sisters, providing a buffer to the incest. That isn't the case in gay twincest, so why then sudden mainstream appeal?
It seems that new viewers are, in part, driving this particular trend - and there are more of those than ever, thanks in part to new global markets and Millennials. These viewers often go through an experience where they seek out increasingly hardcore, intense and taboo types of porn, and what is more taboo than incest?
3) Bareback
Ok, maybe bareback isn't more taboo than actual literal twincest. You kinda can't beat that one. However, in a community still reeling from the effects of HIV, bareback searches represent a particularly poignant fantasy for many gay men. While searches for condomless sex is popular throughout the US, and the world for that matter, it is the most popular search term in Washington State, Nevada, and Utah. It is the 3rd most popular category in all of the US, just behind "black" and "straight."
They say you never forget your first time. Though many gay men may wish they could, especially if their first time was with a woman. Perhaps it's the memory of finally accepting who you really are that draws some gay men to this term. Or maybe folks are fantasizing about the cliched bible-thumpers fear - that your gayness is contagious and you can turn a straight man.
1) Black Men
The number category in all of gay porn is Black. The second most popular search term in the US is "big black dick," which comes behind (te he) "straight first time" The third biggest? "Black." "black daddy" comes in at #7, above just plain old "daddy," which is #9. Big black dick tops the searches for Alabama, Arkansas Washington DC, Florida, Georgia, Illinois, Louisiana, Maryland, Michigan, Mississippi, Missouri, New York, North Carolina, South Carolina, and DC. It's sadly ironic that states that fought so hard to keep black people out of their schools are now fantasizing about black men in their ass. Of course, seen the other way, these are also states with more ethnically diverse populations than say, North Dakota, and many of the searches are bound to be from black gay men, themselves.
There you have it fellas, the top 6 trends in gay porn for 2018. Did any of your favorite searches make the list? Of course, if this list has you curious to check out some new categories, don't forget to check out coupons.xxx for all the hottest deals and gay porn discounts!