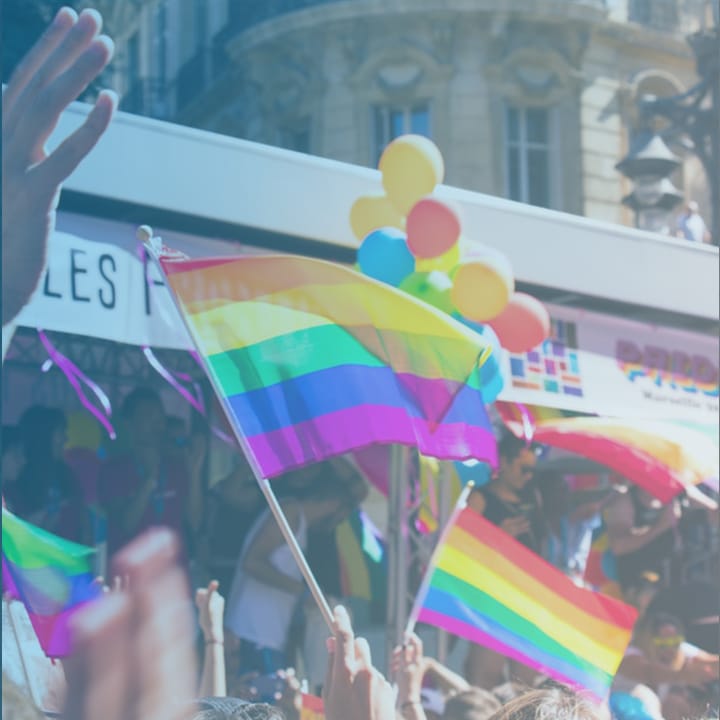 Aug 17, 2019
Gay Porn Consumption Swells During Gay Pride Month
Reading time: 3.5 minutes
PornHub has released its latest report on porn trends. Their Insights page, always full of fascinating information, has come to the unsurprising conclusion that viewership of gay porn increased dramatically during Pride Month. They also took Pride month as an opportunity to look into the most popular types of gay porn across various demographics.
PornHub's Data
By now, our dedicated readers will know that the internet porn giant is rather meticulous in its data collection practices. The information it yields is an endless source of fascinating information about people's porn viewing habits, and their sexualities in general. Trends, as they report them, influence nearly all corners of the industry - including us at Coupons! They have access to the consumer profiles of millions of users and their business model relies heavily on tracking trends.
Why They Decided to Track Traffic During Pride
PornHub was prompted to analyze their gay porn data when Gay Star News asked them what effects if any, New York City's June 30th Pride Parade (and related events) had on PornHub's traffic. According to PornHub, their "statisticians were able to see some significant results" in their Analytics data.
NYC: An Interesting Case Study in Pride Related Traffic
PornHub found a significant drop in traffic, for both gay and straight content, during the actual parade. They say, "Traffic changes were broken down by visitors who viewed gay (male) oriented video pages, and those viewing non-gay videos. At noon when the parade began, traffic to gay pages was down by -17% and non-gay traffic was down by -5% when compared to an average day." This shift shouldn't be too surprising when you consider that New Yorkers view PornHub's content more than any other city in the world.
However, people in New York were watching much more gay porn than average during Pride month overall. The timeframe during the parade was the exception. "Our statisticians looked back a bit further, and found that views of gay (male) videos in New York had already increased significantly over the preceding week by an average of +15% and a peak of +18.4% on June 29th." It was also up by 11% at 8 am the morning of the parade, a time when porn viewership isn't generally all that high.
Pornhub speculates that one reason for the traffic surge may be in part driven by out of town visitors. These LGBT travelers from around the country may be visiting New York to enjoy the festivities and accessing PornHub's content while they were in town. Pride may also be causing people to watch more porn than usual, or to watch Gay Porn when they may watch other content at other times.
Who is watching Gay Porn?
Naturally, men who identify as gay or bisexual make up the majority of Gay Porn viewers. However, many may be surprised to find that a whopping 37% of people accessing gay content on PornHub are actually women. There are also some men who identify as straight. Whether these men are actually in the closet, satisfying some sort of curiosity, or just exploring their sexual flexibility, is beyond even PornHub's ability to analyze. Whatever the reason, according to some studies, as many as 1 in 5 straight men report watching gay porn.
How are Gay Porn Viewers Different than Straight Porn Viewers?
For one, people accessing gay content tend to spend longer on PornHub than their straight viewing counterparts - 2 minutes longer, or 20%, to be precise. There are also regional differences. Some countries, or states within the US, watch more gay porn than others. For US viewers, folks in Mississippi have the distinction of watching the most gay porn of any state. Internationally, Kenya tops the charts with their gay porn views statistics.
What is the Most Popular Type of Gay Porn?
Black/Ebony and Straight Guys are consistently the most popular gay porn categories on PornHub. However, like the amount of gay porn consumed, popular categories vary regionally. According to PornHub Insights, "Some standout states include Connecticut, Massachusetts and Delaware" where the Daddy is a popular search term. They go on to say, "The Twink category is viewed in the Northern States like Minnesota, Wisconsin, and Alaska, while Hawaii stands out as the only state that views the Japanese category more often than others."
Categories are the only way PornHub tracks people's interest. They claim, "While categories can illustrate how broader tastes differ, search terms can really differentiate preferences on a state by state level." The term "cowboy" is 70% more popular in Montana than the rest of the US and "furry" is 569% more popular in South Dakota.
Conclusion
Gay pride month may be over, but the data porn viewers provided during the Pride Month surge will likely influence the gay porn industry throughout the coming year. As the industry better understands it's consumers, it will adjust its productions to meet their demands. Were you one of the millions of porn viewers who checked out PornHub during pride month? Let us know in the comments.